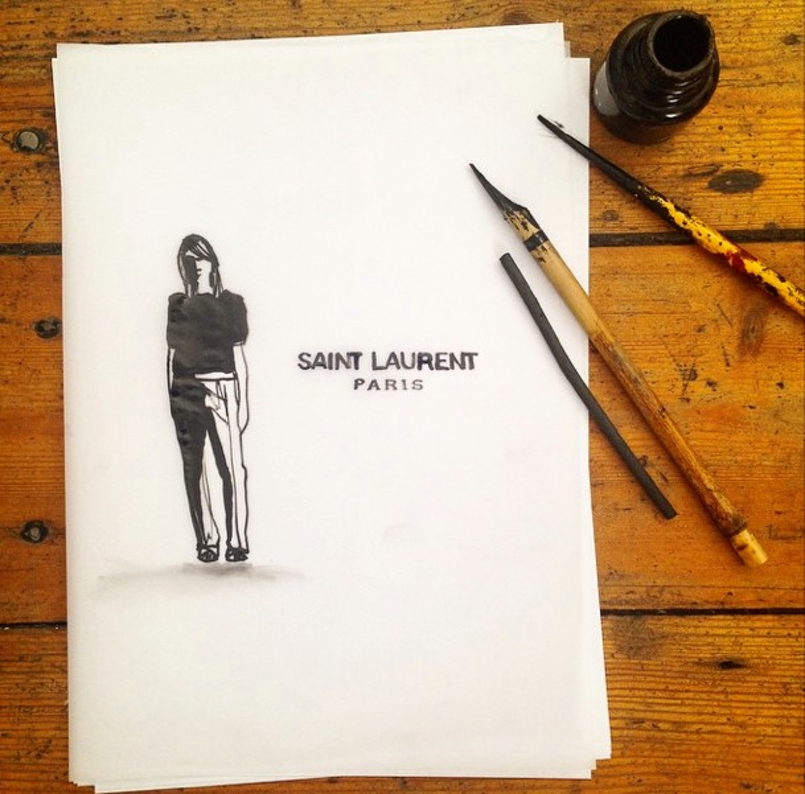 Fashion Week is over for another six months. We take a look back at Caroline Tomlinson and James Dawe's artistic contributions.
Caroline Tomlinson's "inky drawings" are simple, elegant and chic, making her work a perfect fit for the likes of London Fashion Week. If you've been following her on Instagram, you'll have seen that she's been creating some gorgeous imagery since fashion week started last month (and if you haven't been following her, why not!? Follow her here: @carolinetomlinsonillustration)
We've been enjoying Caroline's posts so much, that we thought we'd catch up with her to find out why fashion week inspired her to put ink to paper, and who her style icons are.

You've been posting a lot of beautiful work on Instagram surrounding fashion week, please tell us what inspired you…
CT > I follow all of my favourite fashion designers and bloggers on Instagram and their posts left me feeling very inspired. I wanted to step away from my screen and explore getting back to a more hands on process. Rather than it simply being an opportunity to get my hands covered in ink, it also resulted in new pieces for my portfolio that are fresh and on trend for the coming season.

Great! So, you obviously love fashion. If you could wear one designer for the rest of your life, who would it be, and why?
CT > Tough question, but I would have to go with Isabel Marant. She does effortless, stylish and feminine clothes.

Who is your style icon and why?
CT > Miss Alexa Chung. I mean just look at her. She is perfection.

What's your favourite Fashion era?
CT > The 60s and 70s were both pretty wild and visually intense as inspirational eras, but I have to say, everyone's starting to embrace the ease of classic timeless pieces now. I think we're beginning to turn our backs on the 'fast, disposable fashion' trend, which is really refreshing, not just from an aesthetic stance, but also ethical.
New York, London, Paris or Milan?
CT > For me, the order goes: London first, as it is home, and always will be, Paris (for its flea markets and red wine), New York because it never disappoints, ever, and then Milan, as shamefully I still need to visit this city. I will add it to my ever growing travel wish list!
And now the important question, can we expect more work from you for SS16?
CT > Yes! Lots more sketching and inky scribbles. I am also learning from all the fashion designers out there to embrace colour. It's a new thing for me. Watch this space!
If you want to keep up with Caroline's ever-expanding portfolio, follow her here or check her jelly profile out here.


Just in case you missed it...
jelly's James Dawe was asked to create a series of four 10-15 second animated films for the London Fashion Week Show at Somerset House and The Vinyl Factory. The work was based around a variety of designers' imagery inspired by four continents, Africa, the Americas, Asia and Europe. The result was a series of films that are playful and make use of the different textures, patterns, forms and colours through photomontage and collage.
Check out James' stunning LFW work here - it's a real treat for the eyes, especially for all you fashionistas out there!