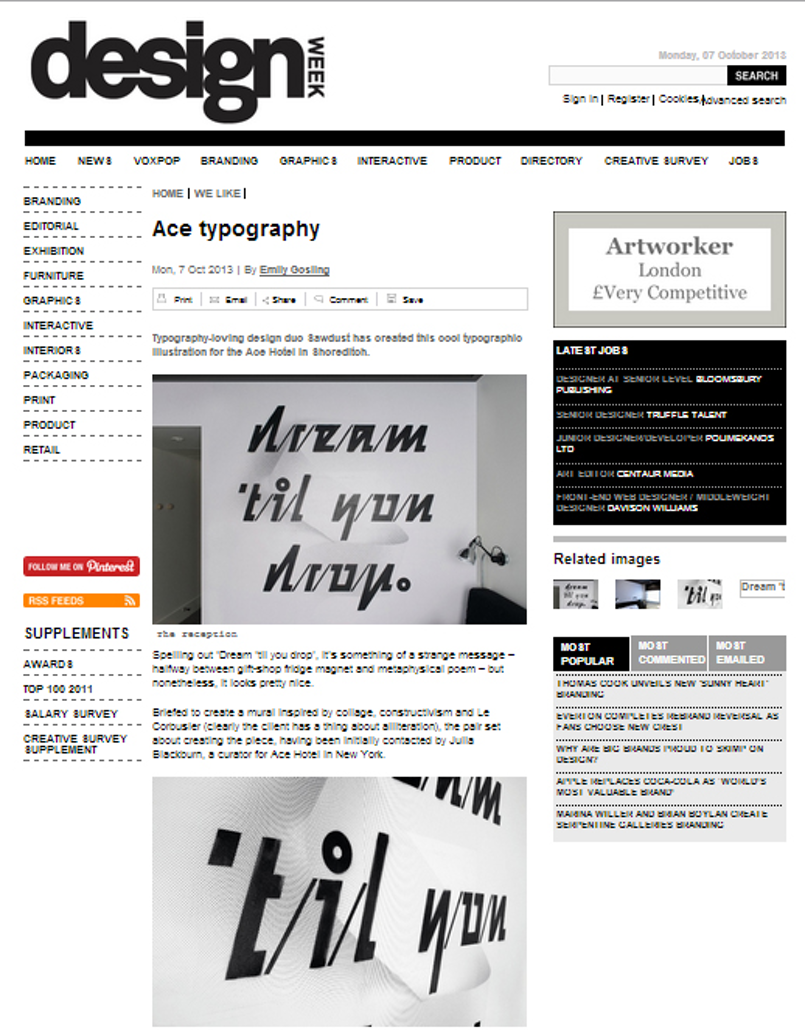 The new Ace Hotel London in Shoreditch hangs its hat in London's most creative and engaged district. A hub for galleries, theatre and design and home to renegade artists from around the world, including Sawdust, who have been commissioned to craft a bespoke typographic illustration to decorate one of the suites in this uber-chic hotel. As most of Sawdust's work is typographically led, they like to create their own messages. This enables them to apply bespoke letterforms and build their unique and conceptual compositions, encouraging the viewer to engage with their work and think about what it says. The core concept behind the 'dream 'til you drop' text could be interpreted in a number of ways and the idea of 'dreaming' from a hotel room resonated with Sawdust's impression of hotels and travel.
Emily from Design Week like the project so much… She interviewed Rob and Jon about the piece for the 'We Like' section…
How did you get involved in the project? Julia Blackburn, a curator for Ace Hotel in New York, came across our work and contacted us about creating a piece for their new hotel opening in London, Shoreditch.
What was the brief? The brief was very open — to create a mural piece of artwork influenced and inspired by collage, wheat pasting, constructivism and le corbusier to name a few (references).
Talk Design Week readers through the design process. The design process isn't linear, it's a combination of thinking, talking, researching (looking) and experimentation. Once Jonathan and I settle on an idea that we both like we'll explore it further until something either clicks or not, in which case we'll go back to the drawing board. The truth is inspiration can strike at any time, the key is being open and ready for it.
What are the considerations on working on hotel projects? Ace Hotel seems to be a very forward-thinking organisation open to working with interesting people and collaborating on art projects, so I don't think they're what you might call a 'traditional' hotel, certainly in their way of thinking. For that reason this didn't feel any different to what we are used to in terms of clients commissioning design or art.
Why did you go for the design you did in the end? Much of our work is typographically led and as a consequence we often create our own messages (if the brief is open and allows it), which enables us to apply bespoke letterforms and build a composition. Our hope is that the on-looker will engage with the work and think about what it says, no matter how briefly. The words 'dream 'til you drop' can be interpreted in whichever way the viewer wishes. For us the idea of 'dreaming' in a hotel room is something that resonates.
What inspires you (generally!)? The impossible question … A million little things that have resulted in who we are today. Inspiration literally comes from everywhere. A conversation with someone, something you eat, a place you go … Everywhere. It's about being prepared to absorb it and let it come out through your work that's important.
And what are you working on at the moment? We've just completed three display typefaces for Nike but we're unable to speak about it in any detail at this time. We have also just finished a new typeface for HypeForType, which will be released within the next 3–4 weeks (October / November). We are also creating a poster for AIGA, San Francisco, as part of an event they're hosting, which is very exciting.