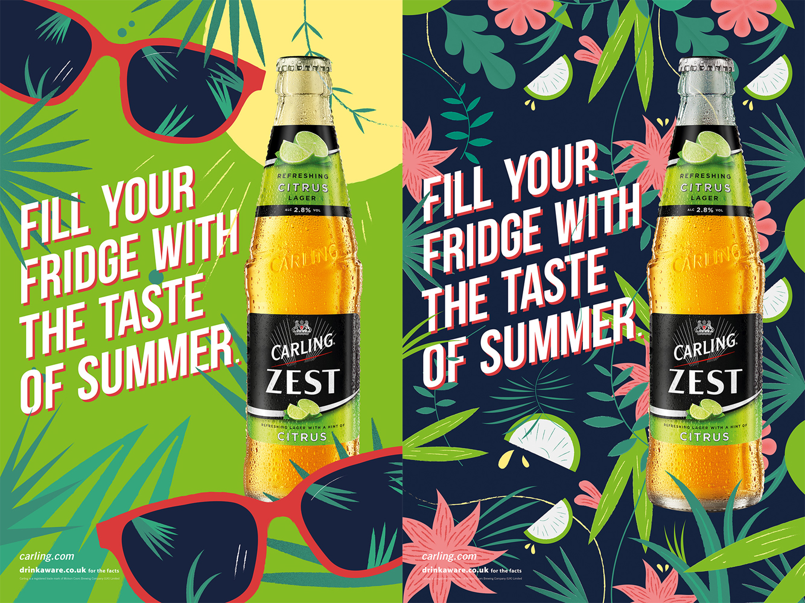 Did you spot Carling Zest's vibrant & eye-catching poster campaign whilst out & about this summer?
Illustrated by jelly's Alex Tait, the advertising campaign aimed to enhance Carling Zest's positioning as one the UK's favourite summer beers. Commissioned by Creature, Alex was requested to illustrate a series of effortlessly cool posters which could be seen right across the London Underground, bus stops, and in-stores.
We caught up with Alex and asked him about being part of the campaign…
Can you tell us a little more about working on the Carling Zest campaign?
AT > "I was given a pretty tight deadline for this job, which forced me to work quickly, and simplify what was needed in the image. Luckily, the campaign lent itself to my style so it mostly came naturally - which was handy given the time restraints."
How did it feel to see your work advertised all across London/the UK?
AT> "It was great to see them out and about once they had gone up! Seeing them in context was exciting too, as I've never had a job being used in that way before."
Alex provided us with a few WIP images…


~

Work with our artists: info@jellylondon.com
Stay up to date with all things jelly, follow us on Twitter, Facebook, Instagram & Pinterest