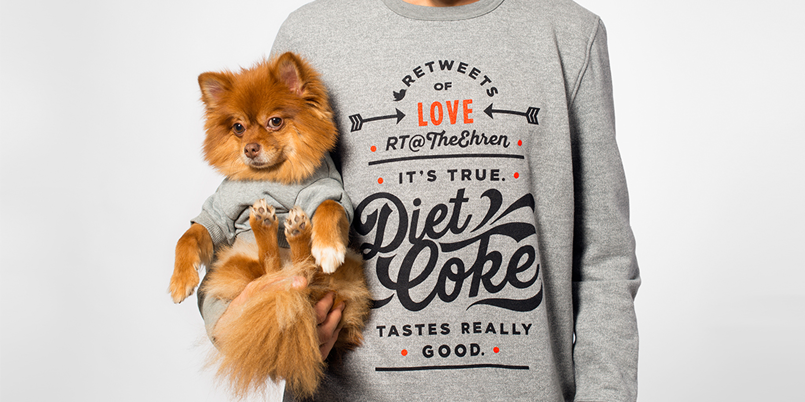 From homegrown advertising campaigns for Cadbury, Sky Movies, Jacob's & The Co-op, to new and exciting transatlantic collaborations with Diet Coke & Bloomingdale's, jelly's Alison Carmichael has enjoyed one of her biggest year's to date.
Armed with every edible ingredient imaginable, Alison's recent commissions have affirmed that, along with hand crafted type, more and more brands are embracing food type. And lots of it! Which means Alison, as ever, is in hot demand. From hand piped whipped cream, to perfectly placed vegetables, and tactically tweezed choc chips, Alison has seen and done it all this year.
After spotting Alison's unmistakable work time and time again on public transport, in the newspapers and on social media, we decided it was about time for another catch up with the hand lettering Queen herself. We found out more about her snowballing success in the UK and the States, her thoughts on the current food type trend, and discovered more about what drives and inspires her sought after work...
Why do you think there's such a trend for 'food type' at the moment?AC> I know - trends like that suddenly peak and there are quite a few artists out there who specialise in food typography now. I did my first piece about 6 years ago for a TimeOut cover using ketchup, and after that I started getting the occasional commission to do type made from various foods. But in the past few months, there have been far more of these commissions than ever before. I've created type treatments from seeds, jam, icing, peas, flour, spices etc. I guess agencies & clients see something, it plants an idea, and then it sparks a wave of similar work. The same as any trend, really.
How do you prepare for the average shoot? AC> I always prepare really thoroughly for these shoots as nothing can be left to chance, especially when working with a different type of food for the first time. You can never be sure how it is going to 'behave.' In the case of the whipped cream for Cadbury's recent "Make Winter Wonderful" ad campaign, I did a few tutorials on icing and practiced endlessly on my kitchen table!
I usually design the lettering as a sketch and go through the usual series of approvals/amends with the agency & client until everyone is happy. Then, depending on what the food is, I have to work out at what scale it will work best. So I take a few letters and have a little play at creating and photographing the lettering using the food. This allows for any troubleshooting and manages expectations of what is achievable.
Next, I make a template of the entire piece of artwork and make a rubdown of it. This is so I can lay the artwork down on a surface to be "filled" with the food. I build up layers using whatever tools work for the job, i.e. tweezers, the end of a spoon, cotton buds etc. Then I simply push it around with my fingers, really! In some circumstances, the artwork has to be created in sections and pieced together in post.
What's a typical day in the studio like for you when you're doing one of these?AC> As I am well prepared, it is usually pretty relaxed. I make sure that I create the artwork in the position that it is going to be photographed so that it doesn't have to be moved at all. Then I build the lettering. We usually end up doing a few rounds of setups where each time, the lettering gets a little bit deconstructed to have options on the finished piece.
What product hasn't been invented yet that would make your life/job better when working live?AC> A lot of the time, because of the scale of these things, I end up working on the floor which is murder for your back and knees. So given that, I think I would like a special winch and pulley crane system to lower me, lying flat over my working surface!
Why do you think hand crafted lettering is more important now than ever?AC> I think that people are naturally drawn to the warmth and human appeal of anything crafted by hand. We are deluged with computer generated, over perfected, and often homogenised, looking design which can seem a bit sterile at times. Hand crafted type is bespoke and can convey more emotion and personality if done well. This works particularly well for branding design because clients want their product or service to stand out and be unique and ownable.
What other creative work has inspired you in 2015?AC> There are SO many incredibly talented type artists and illustrators emerging all the time (there were very few when I started out!) and I am hugely inspired and excited by their work. Social Media makes it very easy to stay up to date and follow artists from all over the world which is incredible. A few of my current favourites are Jon Contino, Ken Barber, Becca Clason and Sergey Shapiro, to name but a few.
The Diet Coke campaign you worked on with Droga 5 NYC was produced for Social Media. Is Instagram important for you? AC> I am fairly late to the party with Instagram and have only been doing it for about a year, but for me, Instagram is like picking up a tailor made magazine of all the designers I love and seeing exactly what they are up to and into! There is a huge Instagram community of lettering designers from all over the world so it is incredibly inspirational to be able to see all their work being updated in one place on a daily basis! I love seeing how other artists work. It inspires me to be better at what I do! I get really envious (in a good way) of all the talent.
We assume that's the first time your work has appeared on a Dog Sweater? Would you like to do more clothing/fashion? AC> I've designed for fashion houses in the past but never dog jumpers until now! I have always had a huge interest in fashion and interior design so I would absolutely love to collaborate with a fashion brand to design lettering for clothing or textiles.
The Sky Movies Christmas campaign was briefed back in May, which is pretty early! Have you been working on any other Festive items since Summer? AC> Yes, the Christmas season work all starts at the height of summer which feels odd! I've been working on a range of greetings cards for Lagom which will be out in time for Christmas. They aren't exactly festive but there is a celebratory theme to the range and I was excited to be able to art direct my own work. I actually find it a real challenge, as it means committing to my own decisions about what I like and it feels very limitless!
And lastly, you appear to be enjoying great success over in New York. The Holiday Campaign for Bloomingdales was a pretty big one! Are there any unique challenges when working for US clients? AC> I felt so lucky to be working on the Bloomingdales campaign and the team there were absolutely great to work with. There were definitely no challenges and in fact, the time difference between London and NYC can work in my favour as I can be working on stuff while they are asleep! I'm going out to NYC in January and I'm really excited to visit agencies with my work, to meet and talk with art directors. Something I have never done outside of London, so that should be really fun!Fancy working with Alison Carmichael? Email chris@jellylondon.com
Stay up to date with all things jelly: Facebook | Instagram | Twitter | Pinterest