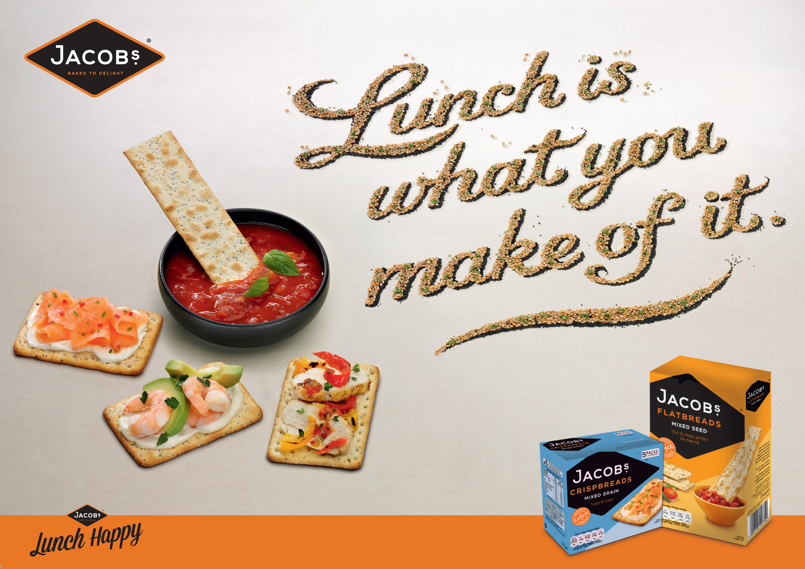 jelly's Alison Carmichael has been playing with her food again! This time, for much-loved British cracker & biscuit brand, Jacob's.
On a one day shoot, Alison created hand crafted lettering out of kibbled wheat, pumpkin seeds and parsley to promote Jacob's range of lunchtime snacks.
The process was simple but effective: Once a layout was approved, Alison made a rubdown of the artwork at a large scale on a white surface. She then created the lettering by pushing the grains and seeds around using her fingers, and a pair of tweezers for the finer details.
Take a peek behind the scenes...
Alison Carmichael Typography for Jacob's from jelly london on Vimeo.


Credits
Photographer: Gary Childs
Agency: WARL
Creative Director: Brian Lloyd
Creatives: Jack Tanner and Will Jackson
Alison is well known for creating playful and iconic handcrafted typography, and has worked for an impressive list of clients. Amongst her most popular, food-based projects is her super-sized, sugary hand lettering for VivaWomen!'s "There's a Good Girl" campaign, as well as this squeezy ketchup masterpiece for the cover of Time Out.
You can read more about Alison Carmichael here.