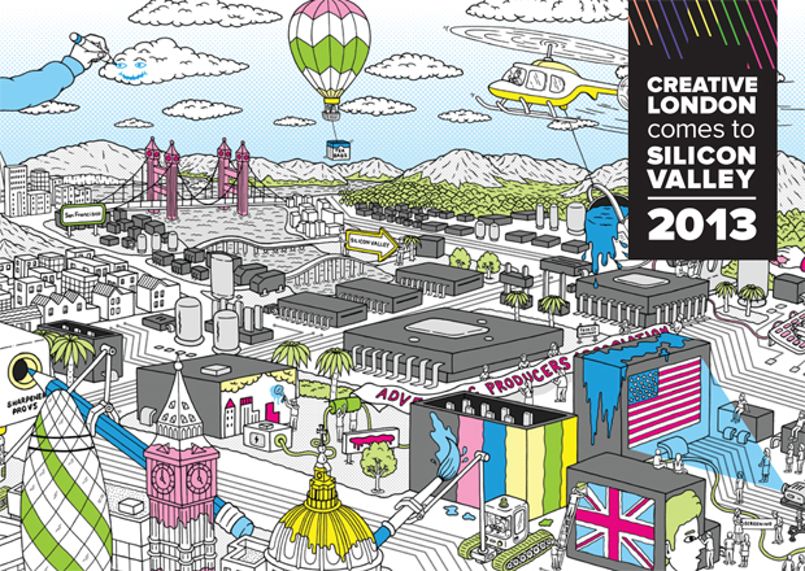 Matt Johnstone has been commissioned to illustrate the artwork, along with the wonderful Tracey Gill who designed the brochure, posters and postcards for the creative event of the year so far!
The APA are taking 37 people - including jelly London's owner, Chris Page, known by friends and fans as a major creative talent in the industry, a committed cycling enthusiast (snow has never stopped this man) and most of all, as a proud rock star dad - to Silicon Valley!
This event is the largest ever overseas delegation to Silicon Valley and it will take place at the beginning of March. It's set to be a fun-filled and inspiring week of high-profile and engaging meetings, networking events and receptions with prestigious Silicon Valley companies.
The delegates will receive a crash course on the Silicon Valley way of approaching all things social, digital and creative, focusing on new technology and means of communication, which APA members can use to enable the agencies they work with to create the most powerful, engaging and effective advertising. They will also meet platforms and channels seeking to feed the demand for video on the internet to explain the expertise production companies can offer.
Jelly London illustrator, Matt Johnstone has packaged the week-long event into a colourful programme, providing details of the companies attending and the people representing them. How very exhilarating!
You can keep up to date on Chris' pearls of wisdom whilst he visits Silicon Valley through our Twitter @JellyLondon...