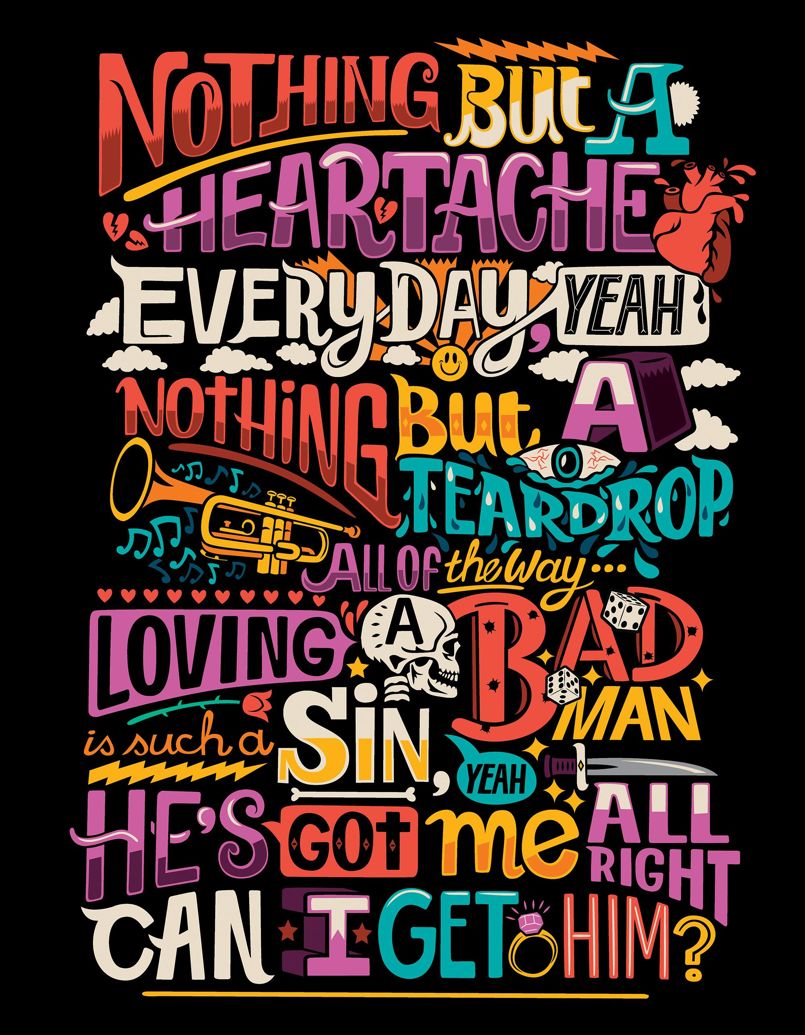 Justin Poulter, the lettering artist and illustrator from sunny South Africa has recently joined the Jelly family - hooray!

Justin draws inspiration from South African painted signage and comic tiles, all the while being continually fascinated at the scope of expression one can achieve in typography. To say he loves what he does would be an understatement.

He has gone on to create a variety of projects for clients including; National Geographic, Google, Vans, Hunters Dry, Little White Lies, Nike, Coca Cola, Knorr Foods, Bacardi, Delta Airlines, Red Bull, Uber, The Webby Awards, Mens Health... the list goes on.

We thought it was about time to find out just what goes on in that creative head of his...
How would you describe your style?
Digitally hand drawn lettering and linework. Loose but neat, playful but structured.
Do you work with music on? What's the very last track you just played… be honest.
Yes! Either music or podcasts to keep me zoned in. Pearly - Dewdrops' by the Cocteau Twins was the last track I listened to. Big fan!

What are your favourite things to draw and why?
I love drawing eyes. You can do them so many different ways and they can convey so much. Also letters, which you may be able to tell from my work. I love how you can make them different every time if you draw them.
You're on a deserted island – what 3 things can you not live without?
A camera and note book to document the experience. Mosquito repellent?

Have you got any exciting projects coming up?
Im busy working on a book cover which is always exciting. Especially eventually seeing it on shelves. I have also recently finished illustrations for two new craft beers from LA. Looking forward to seeing or sipping on those!

Was there a single moment you decided "I want to be an illustrator/animator someday" and if so, when was it?
Its hard to define a single moment as drawing had always been a hobby for me. However I do remember, during high school discovering that illustration was something that you could get paid to do as a service and that I wouldn't necessarily have to be painting still lives in oils for the rest of my life.

What's your spirit animal?
I've honestly never given this much thought. Ive just done a quiz on Buzzfeed and it says I am a Rabbit. I'm happy with that!
First ever paid job?
One of the first ever paid jobs was a mural inside of a Von Dutch shop which later got shut down cause all the gear was fake. My first ever regular gig was doing posters and flyers for an electronic night in my home town of Cape Town, SA.
Proudest professional moment to date?
Signing with my first agent was big for me. Doing the Jackdaw and The Randoms book cover was a proud moment. The project ended up exactly how I wanted it to look and the client loved the work. Seeing the finished product was a proud moment. I could say the same for the Nat Geo colouring book I did. Always nice seeing things in print!

Why should little kids grow up to be animators/illustrators?
I loved drawing when I was a kid. I would happily do it for hours then, so why not now? If you love to draw, don't stop doing it.
Who's your idol (and why)?
Ed Templeton has always been a bit of an idol for me. He's a pro skateboarder, photographer and Illustrator who works for himself and does amazing work. What could be better?!