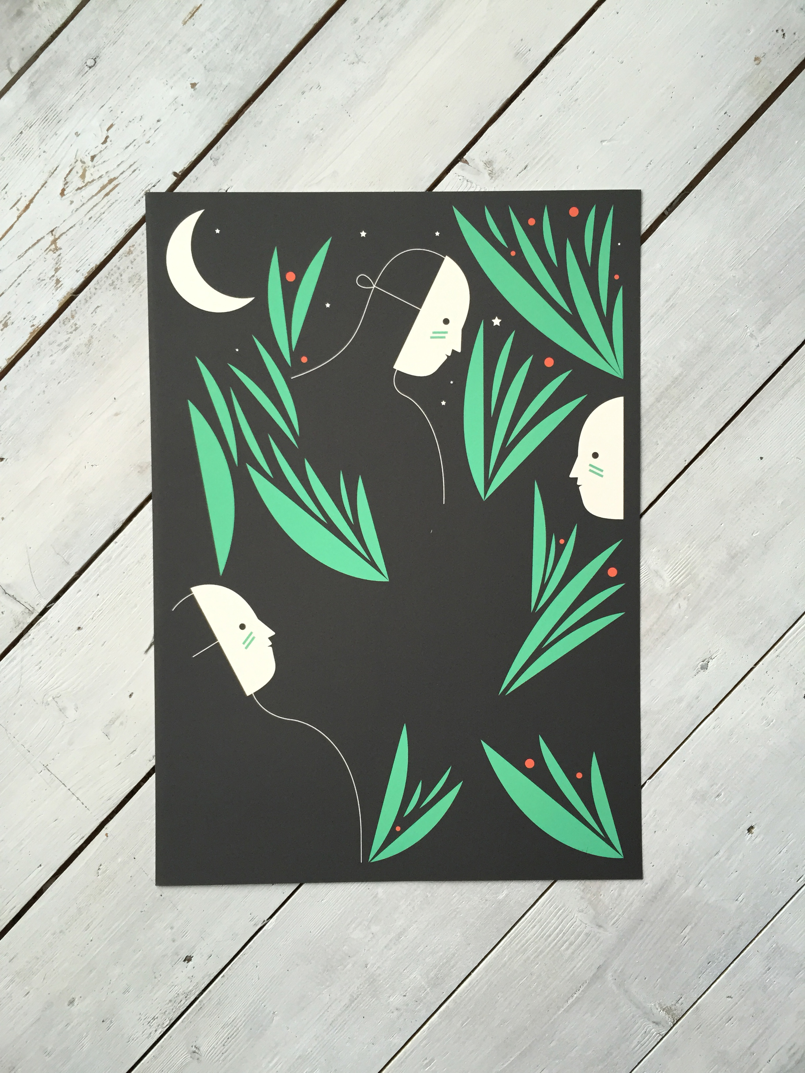 Ever wondered what inspires the jelly talent? What drives them? What a typical day is like?
We went behind the scenes with jelly illustrator Alex Tait to find out what he thinks 2015 holds for illustration, how he starts his working day and just what inspires his playful and surreal vector illustrations.
1. Tell us how it all started.
AT> After spending the best part of three years at uni studying graphic design I thought I would give illustration a shot. I have worked through most areas of design, but illustration has always been the one that stuck. I think this is because illustration has hardly any boundaries and you can take it down any route you want to - I can constantly evolve my work and learn new skills.
2. What's a typical day like for you? How do you come up with all your new concepts?
AT> Plenty of caffeine and baked goods. I'll often work late in the studio - my mind seems to be more active then.
3. What do you love most about your job?
AT> It's always going to be as exciting as you make it.
4. What is the most challenging part?
AT> Letting go of a project and drawing a line under it.
5. You've got an impressive portfolio, tell us a little about what it was like to work for such super clients.
AT> It's always flattering being asked to create an image for someone. The process of working with someone and working out an idea is something I have always enjoyed.
6. We know picking a favourite piece is like picking a favourite child, so how are your projects special to you in their own way?
AT> I associate certain projects with events and that will often have influence in what I prefer. I can often pinpoint what I learnt from creating each image, be it during the process itself or upon reflection.
7. What do you think will be the next big thing in illustration?
AT> Digital is obviously a big part of the future, but I do think there will be a push to maintain tactility and craft.
8. What does illustration do that other mediums can't?
AT> It is limitless and accessible for anyone.
9. What would be your perfect brief or dream client?
AT> An MMA walkout shirt would be cool. I've always loved mixed martial arts and think it would be quite funny to see my illustrations pasted on a burly cage fighter.
10. What do you have planned for 2015?
AT> Experimenting. I want to use my hands more this year and work three dimensionally.
11. What's your favourite snack whilst working?
AT> Me and chicken gyoza are having a moment.
12. What's your favourite music to work to?
AT> I'll often have football up on a second screen, but if not then it's usually hip-hop or electronic. It keeps me awake when the coffee wears off.
13. What's your favourite decade and why?
AT> I couldn't really say - I like things from all decades. I guess it would be the current one - I still have some input on how good it could be (for me personally).
14. Describe yourself in 3 words.
AT> Hungry (in the food way), fidgety, persistent.
15.Tell us something about yourself that we didn't already know.
AT> I used to work on a fruit and veg stall. It was awful.
What do you think the next big thing in illustration will be? What do you want to hear in the next Behind The Scenes interview?
Tweet us @jellyLondon
Stay in touch with everything jelly by following our Facebook, Twitter & Instagram page.