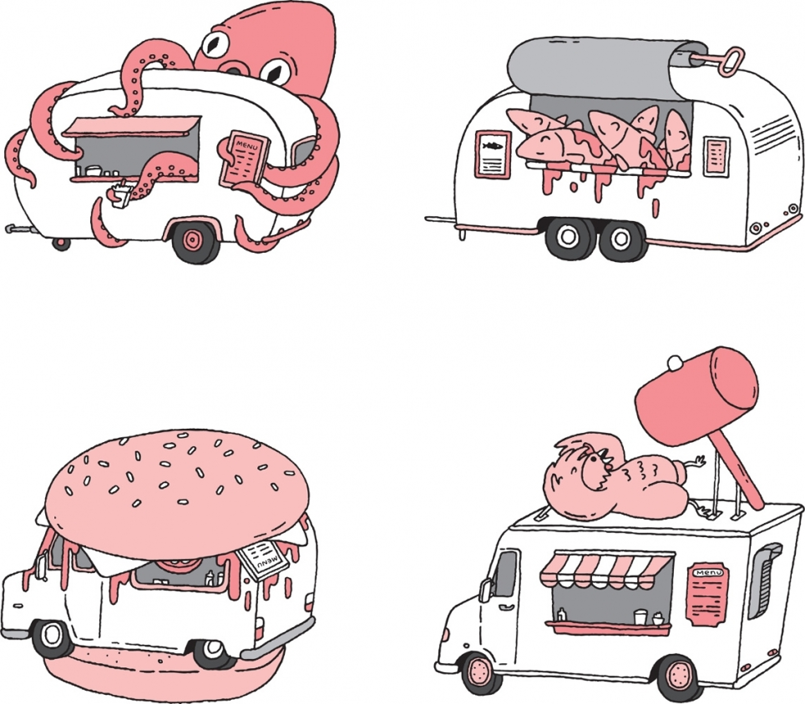 Ever wondered what inspires the jelly talent? What drives them? What a typical day is like?
We went behind the scenes with jelly illustrator Damien Weighill to find out how he starts his working day, what he loves most about his job, and how it's important to get that work/life balance just right.
1. Tell us how it all started.
DW> I remember the head teacher at primary school telling me she could see me writing and creating pictures for my own books. I also remember thinking that didn't sound a lot like a real job. She wasn't too far off and in many ways being an illustrator doesn't feel like a real job and it turns out that that is a wonderful thing. I need to improve my writing skills if I'm ever going to take on a book though.
2. What's a typical day like for you? How do you come up with all your new concepts?
DW> It depends totally on what stage of a project I'm in, but it will be a mixture of deciphering briefs, sketching ideas, scrapping ideas, worrying about having no ideas, answering emails, scanning linework, colouring illustrations and answering more emails.
I don't really know where new concepts come from, but I'd recommend reading A Technique for Producing Ideas by James Webb Young, as a way of starting to get your head around the process and understanding the different stages of coming up with an idea.
3. What do you love most about your job?
DW> I love getting excited about some super smart or super stupid idea and the feeling I get when (or if) other people get excited about it too.
4. What is the most challenging part?
DW> Work/life balance is probably the thing that I struggle with most. It can be difficult to say no to projects and to remember that getting my head out of the sketchbook and to go out and experience things is actually the fuel that the brain needs to come up with ideas.
5. You've got an impressive portfolio, tell us a little about what it was like to work for such super clients.
DW> I love clients. They're nice.
6. We know picking a favourite piece is like picking a favourite child, so how are your projects special to you in their own way?
DW> One of the nicest things about being an illustrator is that each project brings a different challenge. There are a lot of projects in my portfolio that I like for a lot of very different reasons.
7. What do you think will be the next big thing in illustration?
DW> Hopefully there won't be one. It's nice when artists are following their own jumble of inspirations, making their own discoveries and mistakes.
8. What does illustration do that other mediums can't?
DW> After words, illustration is one of the most direct ways to communicate a thought or idea (for me it's definitely a lot easier than words).
9. What would be your perfect brief or dream client?
DW> The most exciting projects are when there is some element of collaboration with the client which pushes my work further/makes me come up with stronger ideas.
10. What do you have planned for 2015?
DW> I have no real plans. I'm going to see what this year throws at me and work hard at making it a good one.
11. What's your favourite music to work to?
DW> The Clash is the probably the best music to listen to in most scenarios.
12. What's your favourite decade and why?
DW> Hopefully the next one is going to be pretty good.
13. Describe yourself in 3 words.
DW> damienweighill (all one word) dot com
14. Tell us something about yourself that we didn't already know.
DW> I'm terrified of musicals. It's a real worry that I wouldn't cope at all well in a world where people were required to break out into song mid-sentence.
What do you think the next big thing in illustration will be? What do you want to hear in the next Behind The Scenes interview?
Tweet us @jellyLondon
Stay in touch with everything jelly by following our Facebook, Twitter & Instagram page.