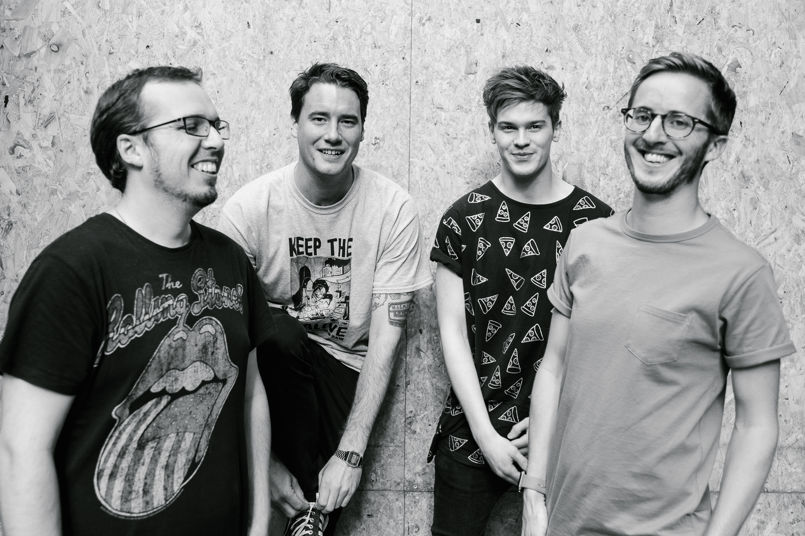 Jelly Kitchen is our dynamic in-house animation studio. Bridging the gap between design and illustration, 2D and 3D, stop frame, character development, mixed media and live action projects, the Kitchen is a place where creative collaborations happen.
Made up of four core animators/designers, Jelly Kitchen has created work for the likes of Converse, Cadbury, Tango and M&S, as well as The Rolling Stones' Keith Richards. The breadth of knowledge and capabilities within the team, as well as the direct opportunities they have to partner with Jelly London's roster of artists, makes Jelly Kitchen a creative force to be reckoned with.
But who are the faces behind this well-oiled, multi-faceted machine? And what's it like being part of one of London's most adaptable and versatile young studios? We delve deeper into the life of the Jelly Kitchen squad and discover the artistic ingredients which each of them bring to the (kitchen) table.
Who? Sam Burton
What? Head of Animation
How did Jelly Kitchen start? I began my career at Jelly London's older sister company, Three Blind Mice, working primarily on animatics and pre-viz work. As Jelly London was born, and started expanding, I started creating motion work for them. We were able to develop the in-house team which I now head up, and in 2014 we rebranded ourselves as the Kitchen.
What are your main styles & strengths as an animator? Having worked across a broad range of projects, I feel I can turn my hand to quite a range of styles. I primarily work with 2D but find myself using cinema 4d more and more for projects. I am also a photographer so I always enjoy shooting stop motion.
Can you tell us more about your stop motion projects? Converse #ChuckHack was the first stop motion project we did a couple of years ago. It was also our first official job as Kitchen. We learnt a lot from doing it and it paved the way for many more stop motion jobs, like the recent work we created for Cadbury's social channels.
What are the benefits of working for a studio like Jelly Kitchen? I really enjoy the creative development process of a project because of the resources we have available to us. Getting an open brief from a client allows us to put our stamp on it. We are also lucky to be able to collaborate with many of Jelly's super talented illustrators.
Who? George Coffey
What? House Animator
What skills do you bring to Jelly Kitchen? I like to work a lot in Flash, Photoshop and After Effects. I use all three as cel animation and comping platforms as I like to work with 2D animation.
What have you been working on this year, both personally, and as part of Kitchen? For Kitchen I've been heavily involved on the M&S Shwopping campaign which is ongoing. In my spare time, I've recently created some intros for a friends skate video 'Rugged Raw 2' (type it into vimeo, it's a good watch!)
Who/what inspires you and your work? My biggest inspiration for ideas will always come from sitting with friends, shooting the breeze over a Holsten. Growing up watching Cartoon Network at my Nans means I am always inspired by cartoons too. In terms of people, I'm constantly looking at John Kricfalus, Ralph Bakshi, Robert Crumb, and more recently, Moebius and David OReilly. Most of the time, I'm just inspired by the things that make me laugh.
What's your favourite Kitchen project that you've worked on? It's got to be the Marie Stopes bouncing balls animation. I mean, how many times have you been told off in school for drawing a cock and balls? Now we can all agree it was time well spent in German class (not that I ever thought otherwise.)
What would you like to see more of within the animation industry? I would like to see better aesthetics within cartoons. If you watch the cartoon series' being released on some networks recently, they normally look horrible because they're done quickly and cheaply (usually using dodgy 3D or Flash.) This results in the loss of soul and warmth often seen in older animations. That said, there is a lot of exciting stuff coming out which suggests that people are gaining more interest in the look of the animation, just as much as the concept.
Who? Myles Lowe
What? House Animator
What kind of skills do you bring to the Kitchen? The main style I like to work in is 3D, although I do love a good bit of character animation. When working in 3D I mainly use Cinema4D as I find it's more user friendly.
What do you love about being part of the Jelly Kitchen team? Working in the Kitchen is great for inspiration. We are always looking at what's new and exciting in animation, keeping up to date with new trends, and playing the odd game of ping pong!
What have you been working on this year? Most recently in the Kitchen I've been developing some high-end 3D work, looking in to lighting and texturing to help push my work. As for my personal work, I've been expanding my 3D building and modelling skills by creating assets for a concept computer game. I've also been exploring new ways to speed up my animation process by creating simplified character control interfaces to use within Cinema4D.
Who? Rhys Clarke
What? Junior Designer/Animator
What's your role within Jelly Kitchen? I kind of do a little bit of everything. I move between many styles and use all sorts of software for various projects; from traditional design jobs working with type, to 3D in Cinema4D.
Who/what inspires you? There are a few key places I tend to draw my inspiration from. The first is film. I'm a huge fan of old sic fi films, Alien being my favourite. Secondly, computer games. Having grown up with them from a young age, my passion and interest in them has been the longest standing. And finally, the people around me. Whether it's my mates, or the people I work with and look up to, their experiences, their work, and their way of looking at things motivates and inspires me to try new things and push my work in different ways.
What's your favourite Kitchen project that you've worked on? I think my favourite project was a Terry Gilliam style animation we created for a campaign against the badger cull. Not only was it for a good cause, it was a hell of a lot of fun to animate British politicians getting what was coming to them in a surreal and hopeful way.
As a team, you've been working on a fair amount of quick turnaround, responsive animations for social media. What's your view on the rise in demand for this kind of content? I think there's still a missed opportunity for brands and companies to fully utilise animation and mixed media to create engaging social media content. I'd definitely like to see what else people can do with it in integrated campaigns, especially with long form content. I still think film and television features are just as captivating and engaging as ever. And whilst there are a lot of 'pros' to film and television all being online now, brands are having to advertise more on these social short form content platforms to make up for lost ad space. Luckily this kind of content is still really fun for us to create.
So, there you have it. The Jelly Kitchen team. We just have one last question… What's next for animation?
It is clear that social is playing a larger role in how animation is used and viewed in advertising. Over the last couple of years we have definitely noticed a lot more agencies wanting shorter form content for Instagram/Facebook. We think this will only continue as this kind of content is cheaper, often quicker to produce, and very shareable so will reach a much larger audience. We also think VR will be used more going forward. The technology is now more accessible than ever with the likes of google cardboard and this year the release of Oculus rift. We would love to create something with VR.
Be sure to follow Jelly Kitchen on Instagram & Twitter: @jellykitchen