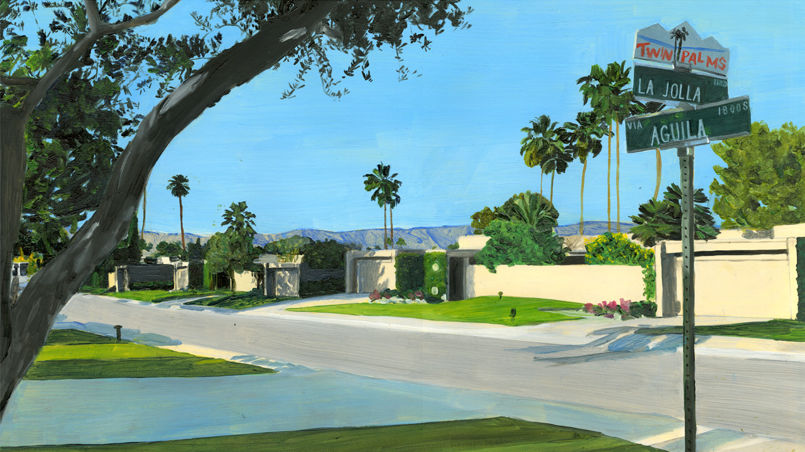 Artist and illustrator Alice Tye combines traditional painting with commercial techniques to create a variety of artwork including stunning landscapes and detailed portraits. By blending photomontage for composition with painting and layering, Alice is able to edit her work digitally and easily shift it around.
Since graduating Camberwell College of Art (UAL) in 2013, Alice has been working as a freelance illustrator based in London. She has worked for a number of companies and publications such as Airbnb, Lenny Letter, Printed Pages and The Gourmand as well as exhibiting in various spaces around London.
Having originally grown up in the 'Garden Of England'; Kent, Alice always dreamed of sunnier climates. Convinced she had been born on the "wrong side of the Atlantic", her fascination with the West Coast quickly seeped into her artwork and continues to inspire much of it today. Brimming with dazzling blue skies, tropical green foliage and picture-book Californian architecture, Alice's work is guaranteed to leave you feeling aglow and pining for your next holiday.
That said, during her first trip to the US in 2015, Alice quickly discovered that California didn't always look the way she had experienced it through cinema, photographs, TV and literature. When she returned, she gave some of her West Coast paintings a makeover - a reality-check makeover, if you will. This kick-started Alice's interest in paradoxes and inspired her to create the series La Jolla Road Revisited and USA IRL.
We are delighted to welcome Alice to our bustling roster and can't wait to see what happens next for this tremendously talented artist. You can see more of Alice's work below or click to view her portfolio at the bottom of the page.