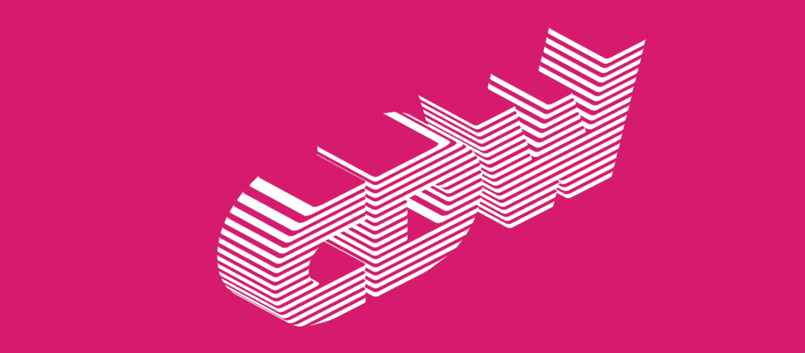 Made Up (otherwise known as Charles Williams) was commissioned to produce CDW's 2018 visual identity, used across the show's marketing channels, show signage and exhibitions.

Q: Did you have much creative freedom with this brief?
The brief was pretty open - the only stipulations were that it had to use the acronym CDW (which is also my initials so I knew this was the perfect project for me), and have an architectural feel, without being obviously about architecture.
A lot of my work has a 3-dimensional aspect; this is what led the client to my work, so there was a certain amount of creative freedom within the loose confines of how I like to work anyway.
Q: Did you have any setbacks / difficulties?
Nothing insurmountable, but we did have some issues early on regarding the conceptual approach. The client selected a bold, simple route from my initial sketches, but was concerned about whether this was effective in communicating the breadth and scale of creativity encompassed by the event. After exploring various ways of communicating this on paper - such as using the 'layered' style of the type to create illustrations relating to the different design disciplines, using a colour/icon system, or incorporating some descriptive type into the design - we resolved to keep things 'simple'
Sometimes it's useful to delve into the 'wrong' approach to highlight how effective and 'right' a simple idea can be. The simple graphic approach also lent itself to animation in Cinema 4D (something developed at the sketch stage)...
... so the static piece was designed in C4D, with the animation developed from that.
Q: Did anyone or anything particularly inspire you for this?
Well I am a massive fan of the work of Italian graphic designer Franco Grignani. He produced a vast amount of jaw-droppingly good work in his lifetime that traversed the boundaries between graphic design, photography, and fine art. And other stuff. He did a series of iconic ads for a print company called Alfieri & Lacroix, some of which I looked at for inspiration here:
I liked the way Grignani was given the freedom to use abstract forms to communicate the message, allowing the viewer to impart meaning on the image. With CDW we couldn't be quite so abstract, but I definitely had him in mind, aesthetically speaking. It was also great to work with the creative team at CDW as they pushed things in interesting directions. It's rare that a client actively pushes for a bolder/simpler solution, and that's what happened here.
Q: How would you describe your artistic style generally?
It's sort of three dimensional without being proper 3D. Fake-ass 3D. Actually this project was quite different in that it makes sense in terms of its 3D construction, whereas usually my work is a bit more surreal. Other than that it's often interconnected and can have a 'liquid' feel, and I like to use certain colours. It was nice to reign it in a bit and work in a different way on the CDW project. That's the beauty of being a hybrid designer-illustrator-artist-whatever - you can retain some of your style in each project to varying degrees, but you are often challenged to create something different/new at the same time.
Q: What type of brief or project do you enjoy working on the most and why?
I like working on projects where I get to use different skillsets - for example some of the handmade stuff. That involves sketching, digital design, model-building, collaborating with a photographer, retouching… actually I hate retouching. I also like working on projects where I am encouraged to explore new ideas as opposed to recreating a version of something I've already done. But every brief has its moments. Even creating super complex isometric vector artworks has its merits - you have to go into a sort of meditative trance, get lost for a while...I use a pomodoro timer when doing intensive digital work so I'm forced to get up and move around a lot and not turn into a sad, broken fossil.
Q: What are you currently fascinated by and how is it feeding into your work?
I don't really work like that. Work has its own momentum. It's hard to pinpoint actual influences from day-to-day life as it's very much a job, so you can't have it be reliant on random life experience....although of course sometimes you'll get inspiration from stuff....generally it looks after itself though. Stuff that interests me outside of work is usually more effective as a release from work, a way to not think about it.
Q: Do you work with music on? What's the very last track you just played… be honest.
Yep. I have no problem being honest, at least in regards to music: a track called Blue Pedro by Bullion. It's totally nuts! Like a ravey pirate disco shanty. Might not float everyone's boat though. Generally I listen to electronic music when working, mainly because I really like it, but also because it's the best type of music.
Q: What tools are you using at the moment?
Right now a bluetooth keyboard and mouse, iMac, Wacom intuos, Blackwing Palomino pencil, and in about 15 minutes' time, a torque wrench on my bike.