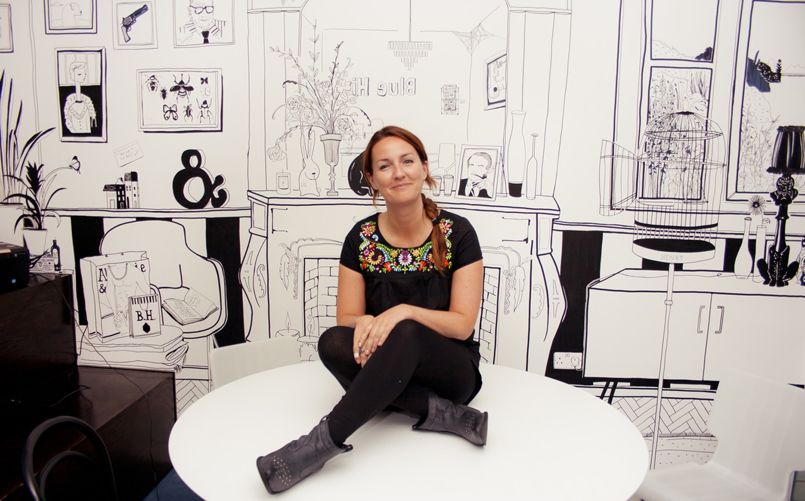 Creative marketing agency, Blue Hive recently had their walls hand-decorated by Jo Bird. Blue Hive's Charlotte Rose tells us more...
"I was delighted when the opportunity arose to actually manage a project where I could indulge my guilty childhood pleasure of drawing on the walls.
Blue Hive decided a while back to name each of the meeting rooms in the agency after the infamous crime scenes of a Cluedo board, so we now have a Billiard room, a Library, a Kitchen and the rest. To push the theme further our ECD instructed us to go doodle-tastic on the white space in each room. She wanted murder mystery, debauchery and humour along with a skilled artist to capture all the magic in monochrome with markers.
The next step was to get in touch with Jelly London, to find the most talented wall mural artist in town and luckily enough, the imaginative Jo Bird accepted the challenge. She truly art directed the theme, bringing hundreds of quirky touches so that each room now tell its own little comical story.
Just to let you in on a few of our clues, we now house a doodled Cockatiel, named Henry, after Mr Ford (the agency's founding client) who's escaped from his cage to sip on rum in the Dining room, along with three golden fish who are spinning up a washing machine mid-cycle.
In the kitchen sits the 'SMUG' fridge complete with pickled eye balls, we also now have an actual skeleton in the closet; the creative department has a wall of classic internet memes including our very own "sad Keanu" who is offering "sneezing panda" a tissue, even the hand drawn wallpaper in the billiard room is 'billiant'; it looks like a decadent print, but if you look closer you will see that the pattern has been constructed from Cluedo weapons, hanging rope, guns, lead pipes and a knife or two; how very macabre!
And her only tools were a ton of ink pens and a vintage-school-projector; which just goes to show that even in this pixel-obsessed age, a simple approach can still be charming and utterly creative. Magic."
You can see more pictures over on Charlotte Rose's blog.