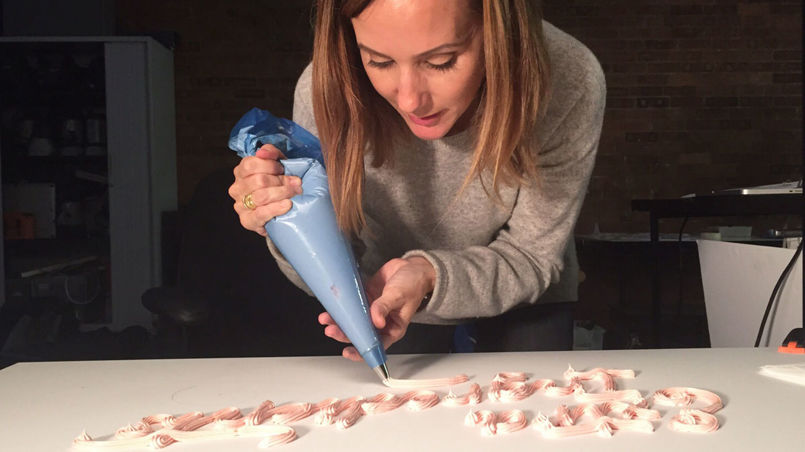 Alison Carmichael has been making her mark on the advertising industry for nearly 20 years now and is part of this year's Creative Circle Design & Craft Jury. Her distinct, hand crafted lettering has been splashed across every platform imaginable and makes up the logos and taglines for more than a dozen household names including Mr Kipling, Kingsmill and Sainsbury's. But when Time Out magazine commissioned Alison to design their cover using ketchup in 2009, her eyes were opened to a whole new way of creating type.
Food quickly became a staple medium in Alison's toolkit and brands were hungry for a slice of the action. With commissions from the likes of Cadbury's, KFC and Jacob's already under her belt, we decided to catch up with Alison to find out a little more about how she honed her craft using food and what "craft" really means to her.
Tell us more about the success of your first food-based commission for Time Out:
Time Out originally wanted to produce the illusion of ketchup lettering for their cover using CGI, but as there was very little budget, I wondered whether it might be a fun experiment to create it using real ketchup and photograph it. The success of the cover lead onto other food commissions using black treacle, marmalade, tea leaves, sugar sprinkles, flour and even whipped cream.
What's the process you go through to create your food type?
When I am designing lettering to be created using food, the first things to consider are a) the scale that the lettering will have to be in order to accurately create the letter shapes (obviously the more complex the design, the larger it may need to be created) and b) how the food will behave! For example, whipped cream may 'collapse' when left for a period of time, or if it's not piped smoothly, it may need a setting agent. Likewise, flour is extremely light and so, do you push it into the shapes of the lettering? Or is it best to stencil it? I also need to consider the background upon which I will create the lettering and how the food will behave on that surface!
How do you prepare for the shoots?
I always start by doing a number of tests which I photograph as I go along so that, on the actual shoot day, I have a clear idea of how much time I will need to create the lettering and I know exactly what size to create it. I usually make a rubdown of the approved lettering so I can keep it accurate. With commercial clients, there isn't any room for improvising or creative embellishment once artwork is approved.
Do you enjoy the "hands-on" approach of crafting lettering this way?
I love the hands on approach to working with letters, so long as I have had the opportunity to be really well prepped for the shoot so that there are no surprises on the day. I find the process really satisfying!
What's the biggest challenge you have faced working with food?
Perhaps one of my biggest challenges was learning how to pipe cream smoothly. It looks so easy when you see a chef doing it, so I was surprised to learn how tricky it is! You have to work really quickly and seamlessly without any breaks as it is quite literally a moving target. I needed to get the whole line in one go - I had a really lovely home economist help teach me how to do it properly so that on the day I was relatively confident to do it in front of the agency and client. That said, it was really tempting to clean the end of the nozzle after each take by wiping it with my finger and licking it…. after about an hour of doing that, I started to feel really nauseous!
What's your favourite food-type project you've worked on so far?
I really enjoyed working with I-AM London and on some flour typography for KFC's in-store posters. I did a lot of prep so that on the day it was almost like piecing together a complicated puzzle. The lettering was created using stencils which I sieved flour on top of and then removed the stencils and any letter counters. Again, it was something I had practise doing before the shoot - you need to lift the stencil upwards, really confidently because if it nudges to the left or right as you lift it, it would smudge the clean edges of the lettering. The team, clients and photographer were very relaxed and there was a lot of laughter on that shoot… and no sneezing!
Do you have plans to explore working with any other materials?
I'm always up for doing photographic lettering treatments - I don't currently have any specific plans but if anyone ever has any nice ideas for lettering made out of something, I'm really keen to do some experimentation!
And finally, with so many conversations surrounding craft within the industry at the moment, what does 'craft' mean to you in respect of the work you create?
I create all my work by hand, so for me, craft in the traditional sense is everything! Attention to craft can add interest to work and make it memorable, ownable and less disposable. In my work, craft means making what I do relevant to the brief and executed in the best way possible for that particular job - it's mostly about good art direction. It is about knowing when something is just right and appropriate. It's not formulaic and is tricky to define. I think that people tend to have an honest and emotional response to good craft. It doesn't necessarily mean making work complex and multi-layered.
See Alison in action for Jacob's below! This was a one day shoot where Alison created hand crafted lettering out of kibbled wheat, pumpkin seeds and parsley...
Fancy working with Alison Carmichael? Get in touch!