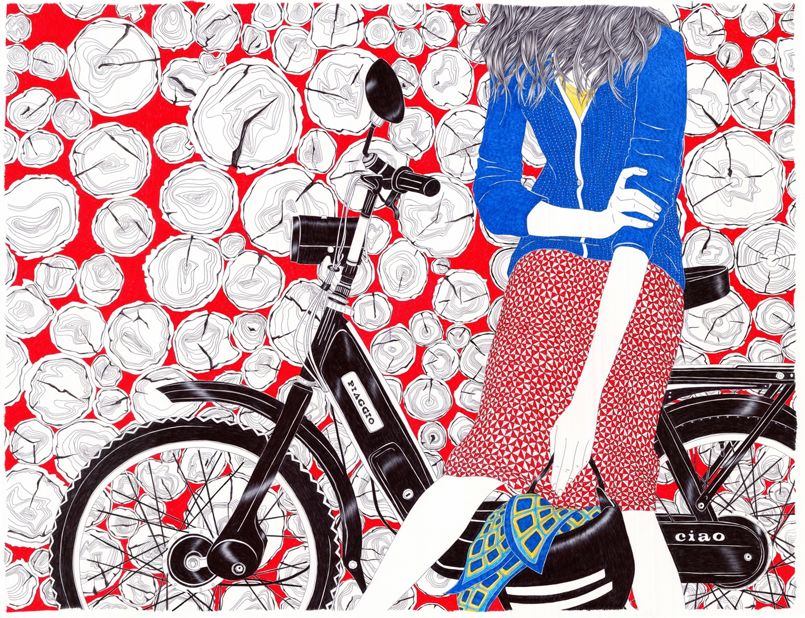 Apparently 2014 is all about Carine Brancowitz. She started the year off with a Creative Review cover illustration and a profile feature in their illustration special which showcases four of the illustrators who have been selected to exhibit at this year's PICK ME UP graphic arts fair. Want to know more about her motivations and her inspirations?
Carine was more into music as a child and it wasn't until later on in life that she found her passion for Italian Renaissance and Ancient Greek sculptors and her inspiration in Polykleitos and Praxiteles. She went on to study illustration, screen printing and lithography at the Ecole Estienne in Paris, drawing with ballpoint pens, felt tips and sometimes pencils.
She has since created an impressive portfolio of work featuring brand commissions from Testoni, Celine, Iceberg, Kitsuné, Vogue Pelle, Nylon, Dazed&Confused, Elle and Arena.
She thinks conceptually about the balance of colour and detail within her compositions, drawing pencil outlines on paper when an image has manifested itself in her mind. Her work is all about the NOW, nostalgia is not her thing and she finds that thoughts of how swiftly time passes have an affliction on her creativity. Some of her drawings are punctuation marks in her life, or chapter headings which seek to encapsulate precious moments of existence.