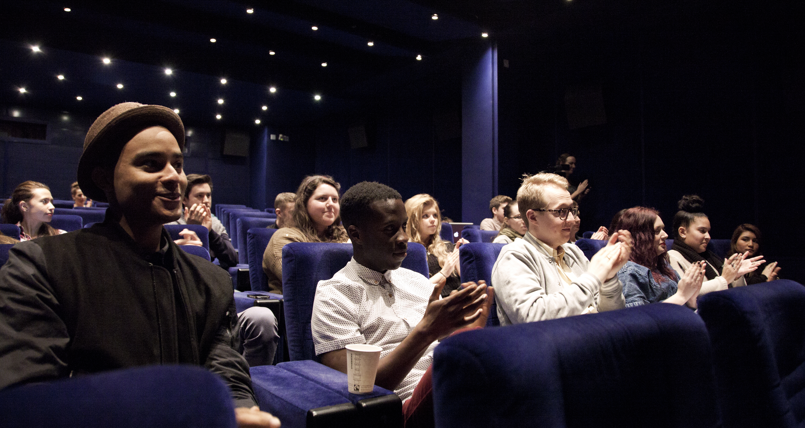 It's already that time of the year again, the DandADNewBlood students are setting their minds and pencils to solving brand briefs which could ignite their bright futures in the creative industry. Our Creative Director, Charlie Sell's is on the prestigious #PencilPanel and our head of Creative Comms, Charlotte Mary Rose has done a write-up for you sharing the pearls which were discussed via a live you-tube streamed event from the screening room of the Moving Picture House.
"It is Wednesday 5th Feb. There's a tube strike in Central London and down in the South East brutal waves are crashing hard and causing all kinds of havoc. Yet, despite all this drama, the @DandADNewBlood Prestigious #PencilPanel of 2014 still managed to show up to discuss the amazing selection of brand briefs available for the students in the audience, hungry for a future simmering with ideas and creativity.
The bright and engaged audience tweeted in their brief-related questions to the panel whilst chair, Andy Sandoz of Work Club curated an insightful discussion which was streamed live via DandAD's YouTUBE channel. The event was hosted in the beautiful screening room of the Moving Picture House. So thank you to @MPC_VFX.
So… DandAD offer new blood exquisite opportunities to see their vision's on the supermarket shelves of tomorrow by working with brands like ASOS, BBC, British Council, The National Trust, SKY and the BODY SHOP too. And this year's #PencilPanel consists of our own Creative Director, Charlie Sells alongside Iain Aitchison of Plan, Ian Wharton of AKQA, Jack Renwick of Jack Renwick Studio and Mike Reed of Reed Words.
As I sat in the audience I must admit, I felt like a student again. I felt a bit inspired by the challenges and sat there comfy in my seat like a sponge soaking up all the pearls of wisdom the panel were sharing. This is what I heard and will remember:
- Make sure you understand and always listen but trust your gut.
- A good idea is STILL the most important feat of a successful campaign however a good idea warrants a certain level of pride in the execution.
- People will value your opinion more if you can justify your point with relevant research.
- Look at why a brand exists in the first place in order to understand it's purpose in the world of the consumer – This will help you to communicate key messages.
- You can make a traditional brand with heritage relevant to a younger audience without necessarily changing the architecture of the brand.
- A twist on a cliché can sometimes work well.
- In a world of millions of images and constant streams of media – Find a moment in time which matters and then cherry-pick the perfect touch points.
- Repetition does not an "integrated campaign" make.
I cannot wait to see everyone's ideas!"