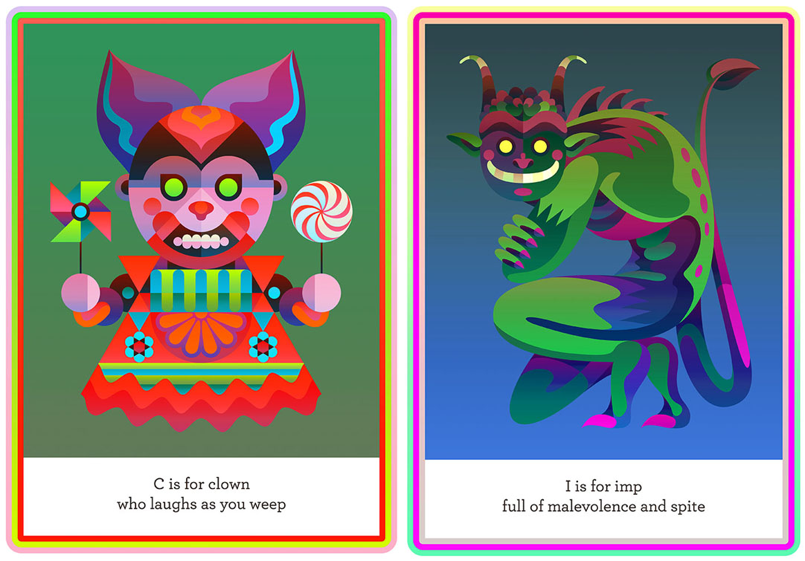 Matt Lyon has had one hell of a busy October creating this spook-tacular A-Z series of Halloween-inspired designs & rhymes. From haunted houses and Ouija boards, to witches and poltergeists, Matt has resurrected the most iconic Halloween images to create this startling collection of devilish designs.
Scroll down to see the series in full. Keep reading to hear more from Matt about the project...
What inspired you to create this spooooooky illustrated Halloween series?
Matt> The idea was inspired by John Alcorn's Christmas Alphabet from 1961. Each pair of letters in his design followed a simple rhyme that provides inspiration to the images. Initially, I was going to base the series on ghosts and monsters from UK folklore. I managed to research a full list for the alphabet but the collection of names proved quite obscure. Moving on from that, I created a second list of words related to Halloween, only choosing to avoid literary characters such as Frankenstein and the like. The next stage of the process was to write the captions and rhymes that I could illustrate. With all this in place, I finally designed the layout for the series, creating a template inspired by Tarot Cards.
How long did it take you to create each design?
Matt> I worked quickly, on average creating one design a day. Drawings were scanned and redrawn in Illustrator that were then coloured and arranged into composition within the template. From here I worked in Photoshop for final editing. Some of the letters proved tricky to inspire imagery and the quick turnaround was an additional challenge. However, this pressure often provides a focus of work to get ideas flowing
So this was some super speedy, responsive content then?
Matt> Yes! Each design was finished on the day of posting online. I'm really pleased with how they've turned out and also relieved that I managed to finish them in time. I'm really happy from the feedback I've received - many people have enjoyed following the series. Now I can take a step back and think of what to do with the collection. Cards, prints, a book? All suggestions are welcome!
Where would you like to see Matt's spooky designs next? Tweet him: @C86
#
Click on the GIFs below to share on Twitter & Facebook!