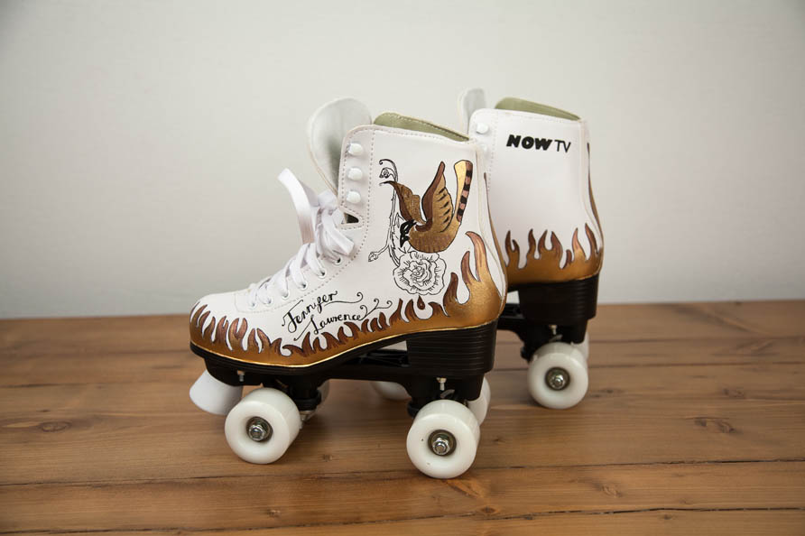 Illustration is limitless. We live in a constantly evolving world, over saturated with the same old cold campaigns and predictable imagery, but there is hope..
The way illustration is used has changed dramatically since the term was first used to describe "a picture illustrating a book or newspaper" No longer is it just for decoration, or to sit pretty next to an article. More and more branding agencies and companies are now embracing the medium to their advantage.
Illustrator Matt Johnstone creating a live mural celebrating 25 years of Eurostar.
Steve Scott illustrates for attorny patent and trademark attornys Venner Shipley.
Creating campaigns which are memorable, personalised, and communicate a strong message is now a must in todays economy. Used on everything from roller skates, Paddington bears, pop up shops, to celebrating 25 years of Eurostar with a live mural event, illustration is an unstoppable force changing the how we interact with the world around us on a daily basis.
Roller-skates created by jelly's Jo Bird for actress Jennifer Laurence at the London premiere of Hunger Games.
Matt Johnstone on site mural for the Cheltenham Lit Fest 2014
Using illustrated images is an efficient way to convey a thought or idea, and as jelly illustrator Damien Weighill said it is after all "one of the most direct ways to communicate".
Damien Weighill for Esquire
In such a competitive climate companies are searching for unique and original ideas to promote and convey their message. Here at jelly we have an expertly talented bunch of artists who can do just that.
Paddingtonscape created by Hannah Warren for the London Paddington trail.
Jordan Carter illustrating live for the opening of the Bethnal pop up shop.
Illustration gives companies the ability to be flexible and adaptable. Used as a tool to communicate, many companies are now taking advantage of the way illustration can manipulate reality. Imagining worlds where you can do anything you could possibly imagine, and we mean ANYTHING. If you've got the vision we'll bring it to life.
#OwnYourtomorrow created by the jelly Kitchen for vimeo.
So what does the future hold for illustration?
We ask the illustrators themselves what they think about the mediums future.
jelly illustrator Alex Tait said "Digital is obviously a big part of the future, but I do think there will be a push to maintain tactility and craft."
Hannah Warren agreed when she said "As digital platforms increase, I think we'll be seeing more illustrations animated. As a result of this more digital work, I think illustrators and designers are / will look for ways to work outside a computer."
Mariana Rodrigues echoed the other jelly artists when she said "Probably animation. It's not that it's a new thing, but modern tools have made it so easy to do it that a lot of illustrators are spending more and more time animating their work."
Matt Johnstone reiterated, "I think that illustration is going to used more and more in a digital interactive way animated for tablets, phones and websites."
The future of illustration
It's clear that illustration is a growing tool to be manipulated and explored for generations to come. Continuing to evolve and undergo changes in both the aesthetic sense and how it is applied by the creative industries.
In recent years we are seeing more and more crossovers between mediums, and exciting collaborative work exploring the true potential of illustration and it's counterparts like animation.
What is unclear is what the industry will surprise us with next. Will it continue to push the boundaries of the digital? Perhaps return to a time of craft? Or will there be a harmony of the two where the right appraoch will be used for the right brief? We certainly hope so.
What we are sure of is that illustration won't be going anywhere any time soon. Not while pioneering branding agencies continue to explore the true potential of the medium.
Exciting.