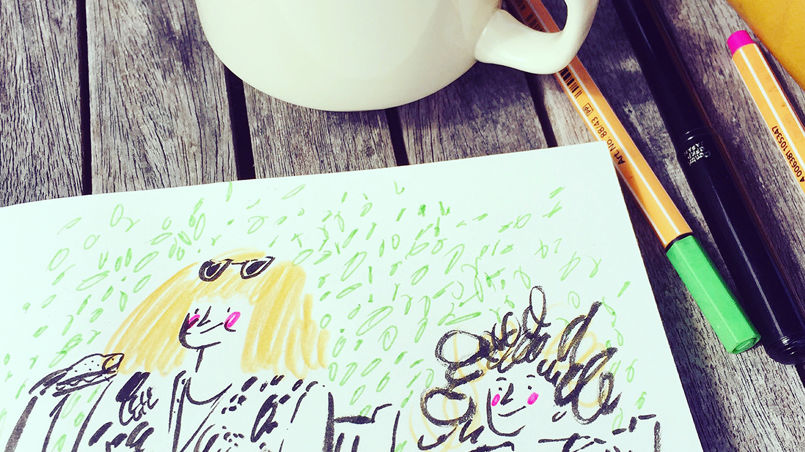 If you already follow Hannah Warren on Instagram, you'll know she's a serial sketcher. And that it's THE BEST THING. But if for some reason, you don't, allow us to fill you in (and then hit that follow button, obvs)…
From charming behind the scenes snaps of life as an illustrator, to awesome work-in-progress videos, Hannah's Instagram Stories is where it's at. And on her feed, among a sea of spectacular, finished artwork, lies a collection of drafted hidden gems - all existing between the pages of one of Hannah's most prized possessions; her humble sketchbook.
Bursting with ideas and creativity, join us in taking a leaf through Hannah's daily observations with insights from the illustrator herself...
"I started to keep these small sketchbooks whilst studying at The RCA. There was a drawing elective that set the project of daily sketchbook keeping - something that I failed at almost daily until I realised that it's having the reminder and opportunity to draw every day, so, I have about 4 small books on the go at the same time in bags, coat pockets, at my desk."
"Looking back through the sketchbooks is like time travelling. I'm not a great photographer so this is a way of me recording things that I find important, funny, and sometimes sad. Things to look back on. It's usually people that I draw. I'm nosy about their lives, mainly, but I find people to be the most interesting subject. I like observing an awkward or unusual situation playing out, usually on trains or an airport terminal or the park."
"Naturally, practising watching and drawing is a useful tool for an illustrator and I'd encourage anyone to take up the daily habit. Above are my sketches from my trip to New York."
"Some pages are nothing more that chaotic brush pen mark and a note of the event / place / person with the view to go back and draw from memory. I also haven't mastered the art of biking and drawing at the same time so I'll often see something on my route to the studio and draw it when I get there."
"My favourite pages are when I've been able to sit for a while with a coffee or beer and draw the people around me living their best lives. That's probably when I'm at my happiest actually."
"I like to share my sketchbooks on social media because I think it's good to show unfinished and unpolished work, especially as my illustrations are created digitally but always start life as a sketch."
Click here to follow Hannah on Instagram
Click below to see Hannah's Portfolio