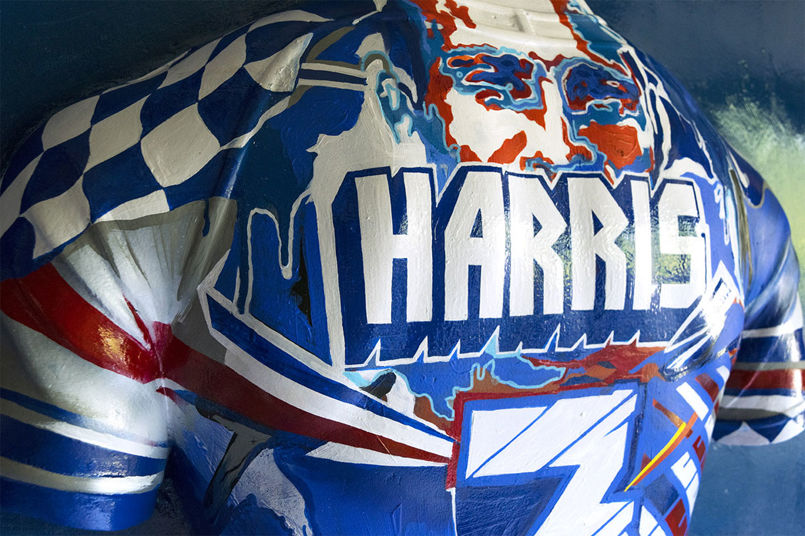 To celebrate Chelsea FC's new sponsorship from Nike, Jelly's James Dawe was 1 of 7 of artists chosen by Nike Amsterdam to create busts of football shirts, directed and commissioned by Studio Makgill.
The brief was to customise the bust based on a Chelsea FC legend, allocated based on the artists' country of origin, to feature in the Chelsea FC Megastore, located outside Stamford Bridge Stadium. The bust had to include the player's surname, number, and the artists were limited to a strict colour palette of red, white, blue and black. James was given Ron "Chopper" Harris, and created this wonderfully vibrant bust which includes various references to Ron himself.
"The typographic work is a modification of the bold typeface used on the cover of the Chelsea programme during the 1970's, the period when Harris was captaining Chelsea.
Harris's nickname was 'Chopper' due to his tough tackling and committed approach. Therefore I have used a graphic novel style to chop up the number 3 and add concrete cracks to the bust.
The detail to the right of the '3' is of a tower block from Hackney, the borough where myself and Harris both grew up. And the shards of red white and blue represent a deconstructed Union Jack flag, hinting at our British heritage."
"I always like to combine the old with the new. The chequered blue and white flags are part of Chelsea's tradition flowing around a dynamic composition.
The portrait of Harris gazing over the letters is adapted from his early playing career, steely eyed and focussed. This and the overall artwork has a street-art/comic book style treatment to enhance the hero aspect of this legend player, and bring it in line with a younger demographic."
UK artists were also given a second brief to hand paint a pillar in the Chelsea x Nike megastore. This piece was much more abstract, and again they were limited to the use of a few colours.
"Using the key Chelsea colours and bauhaus shapes as a starting point I wanted to suggest movement and energy, reflecting Chelsea's playing style. The finer fanned lines are then from an aerial view of Chelsea's new stadium plans."
"The abstract fluid marks mix with clean graphic shapes to show the freedom and structure found in football. There is also considered white space, time and space being an important part of the game."