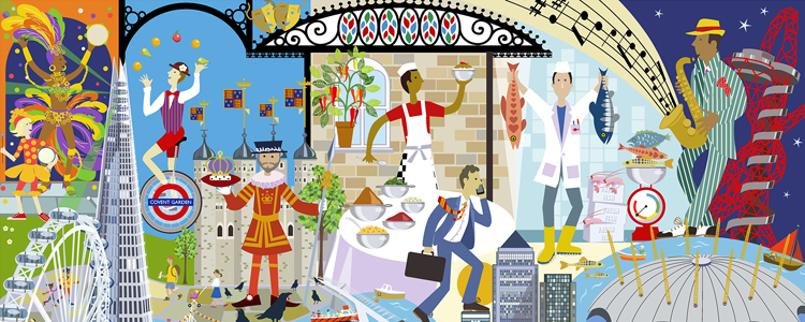 Congratulations to Hannah Warren and Joe Waldron whose shortlisted work was finally unveiled last night at the Prize for Illustration 2015.
The internationally famed illustration awards, organised by The Association of Illustrators (AOI), were held at the London Transport Museum, where all shortlisted entries will be on display until September. The museum provides the perfect setting for this year's theme: London Places & Spaces.
Hannah and Joe (pictured above), who were shortlisted back in November, had no difficulty finding inspiration for their London-themed submissions and were delighted to have their work on display.
Titled "St Saviours Dock - Boat Community", we asked Hannah to talk us through her beautiful London scene, "I chose the boat community in St Saviours Dock. It's where I take my morning coffee walk and plan for the day's activities ahead. The moorings there are the oldest in London and sit by the entrance of the River Neckinger to the Thames, one of London's underground rivers. I think they have the best view in London!"
Joe's piece, titled "Overground Drinks", transports you straight to a summer's afternoon in London. Amongst the hustle and bustle of the city, his quirky, angular characters enjoy a few beers in the sun, amongst a backdrop of London's iconic train arches and underground map.
The Prize for Illustration 2015 continues Transport for London's legacy of design that dates back over 100 years. London Transport Museum's collection of graphic art is one of the most important in the world and includes over 5,000 posters and artworks by famous artists including Man Ray, Paul Nash and Edward McKnight Kauffer.
You can find Hannah and Joe's work on display at the London Transport Museum from now until 6th September 2015.