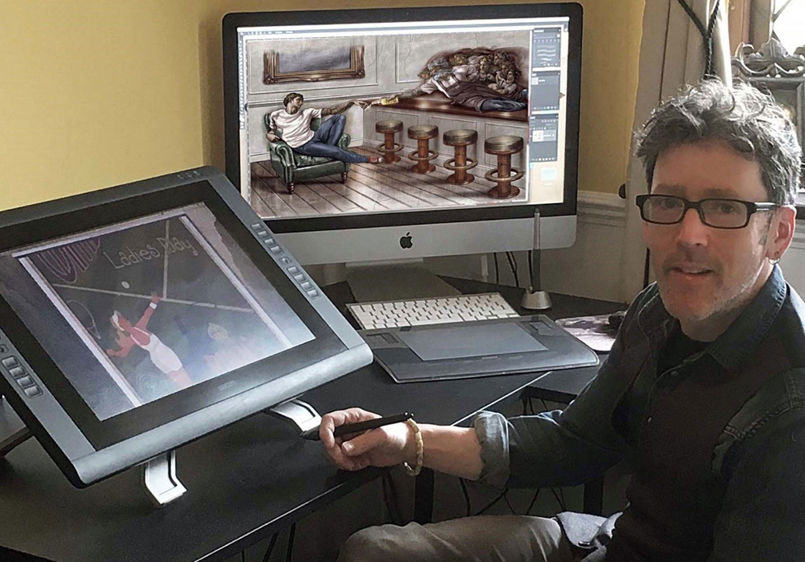 Jelly Kitchen is a place where we bring production projects to life. We work with a group of highly talented individuals who are multi-talented in a range of styles, or their style is especially niche. Working on projects of all sizes, we can either assign an individual illustrator, create a bespoke team to deliver an entire idea, or take on specific parts of a project. It could be a large volume of content needed with a short time frame or a brand owned style.
Tony Wilson is one of our most regular and longstanding collaborators with a career spanning 32 years across the creative industry. His talent is turning his hand to many, many styles with brilliant skill and execution. He's been with us since Jelly's birth and we've asked him a few questions to give us a bit of insight about what makes him tick.
Tell us a little more about your work. My work is very wide ranging. I started with traditional painting with Gouache, coloured pencils, watercolour and realistic airbrushing to having the very first Mac at the studio. A big bright Teal coloured G3 with matching colour coordinated accessories of course. It was much to the amazement of the artists I shared with – they thought it would never catch on!
Do you have an all-time favourite project you've worked on? Hasbro's The Game of life Board Game, Bank of Scotland campaign and Felix packaging with Seymour Powell. I used to have a black and white cat who would be my model much to her dislike. My favourite has got to be the most recent Jose Cuervo' Michelangelo painting revamp with Albion - that was fun to do.
Your key skills are being flexible and adaptive to many kinds of briefs – what is it about working that way you enjoy the most? I enjoy the variety and challenge of different styles. It allow me to not do the same thing time and time again and experiment with different techniques.
What's your process as soon as that brief lands? I get stuck in – and I've never missed a deadline yet!
Where do you find your inspiration? The bills, the taxman, the mortgage. No but really - aspiring to create a piece of work I can be proud of. Always at the National Portrait Gallery and the BP Awards.
What is it about illustration that you enjoy the most? Bringing ideas to life.
What would be your perfect brief or dream client? A very happy one.
Which fictitious character do you most relate to? Bob the Builder (I've just moved house)
If you could have dinner with any well-known figure, dead or alive, who would it be? 1970's Elvis Presley.
Tell us one unknown fact about yourself. I've got awards for ballet and tap dancing. I had a 2nd re-call for a 'Hammer house of Horror' film and met the late great Peter Cushing, really lovely man – although he didn't cast me.
You can see more of Tony's work here.
For any projects or for a portfolio request, we'd love to hear from you – get in touch here.