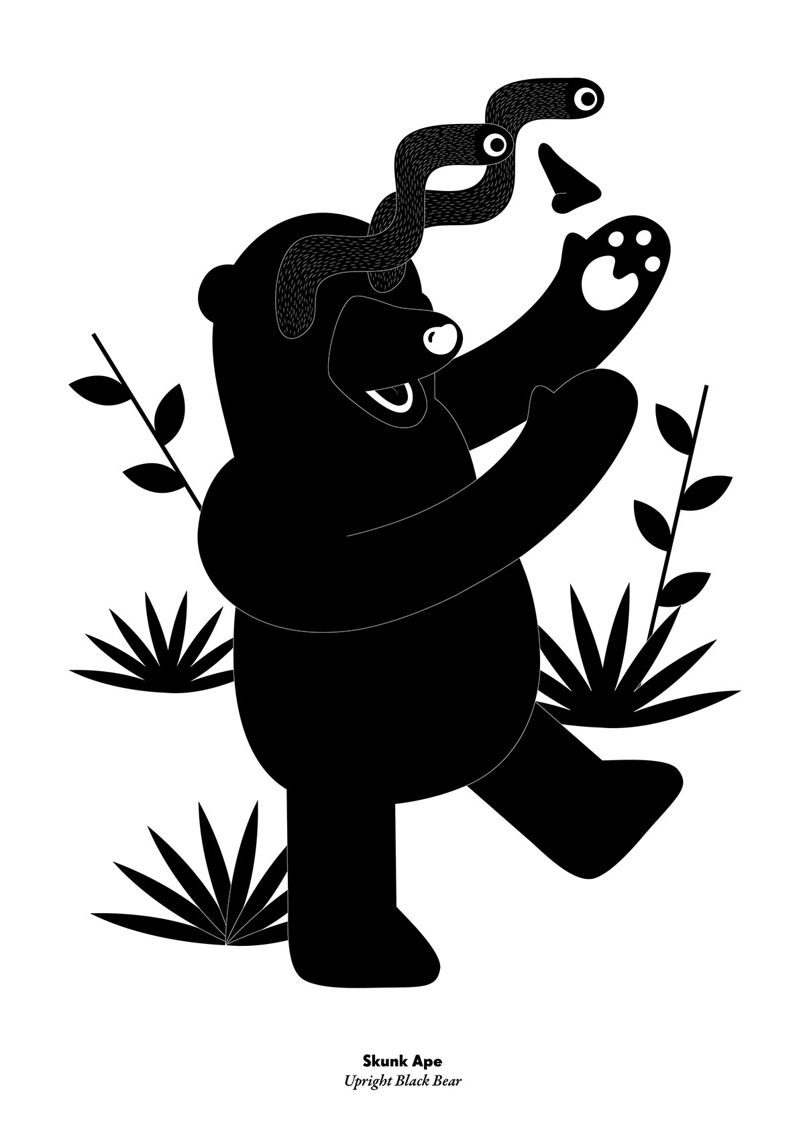 Here at Jelly London, we've always had a passion for nurturing the new – enjoying our involvement with organisations such as D&AD, YCC and various Universities, we recognise that this year's graduates are the next generation of creative industry movers and shakers. 'Futures' seeks to find the best fresh talent coming onto the scene and develop their skills and portfolios for a step up into the illustration business. Hand in hand with our expert Project Management and Agent experience, Futures offers up a route for nurturing exciting new talent with the reassurance of management by one of London's top creative production agencies.
We are delighted to introduce Alex Tait, Jordan Andrew Carter and Paul Imrie.
We met Alex Tait at D&AD New Blood in 2013. Alex studied Graphic Arts at Bucks New University mastering the letterpress and screen printing. He has been featured in It's Nice That for his playful and surreal vector illustration style. He finds his inspiration in nature - zoology to be more specific - and what he sees in Apartamento magazine.
After admiring Jordan Andrew Carter's work for some time our paths finally crossed at the Little White Lies Not For Rental Charity Exhibition. He studied 'Games Art and Design' at Norwich University of the Arts and since graduating in 2012 his work has been exhibited in the Inky Goodness Beer Mat Character Exhibition and the Ammo Magazine Poop Deck Exhibition. Jordan has worked with clients like Fiasco Design, Creative England, Ohh Deer, Ammo Magazine and Paper&Cloth. His style is a fresh mix of hand drawn sketches juxtaposed with colourful graphic work to create exciting, multidisciplinary blends. He is inspired by Street Art and traditional printing methods and looks to humour and outlandishness to filter into his creative work.
We discovered Paul Imrie at New Designers in 2013. Paul studied illustration at Glyndwr University under the North Wales School of Art and Design. Paul's 'Entropy' drawing was exhibited and shortlisted by Sotheby's in 2013 and he won the best of year student award at D&AD's V&A project. Paul's linear style has already gained him two Zizzi wall mural commissions. He mixes traditional drawing techniques and blends them with digital colouring. The complex shapes and forms within urban city environments inspire his work along with his passion for architecture.
So, welcome to the jelly London roster Futures and if you want to find out more or have an opportunity for Future's, we'll look forward to hearing from you.