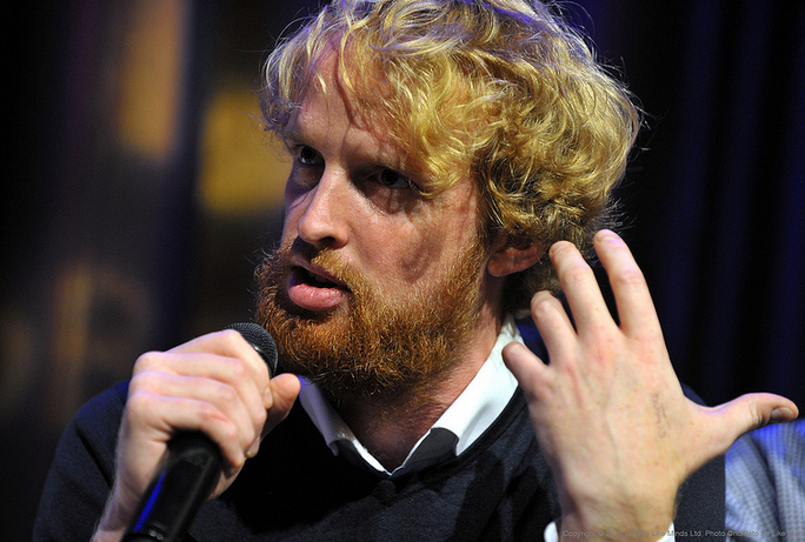 Our friend Tom Ollerton is the Marketing Director at 'We Are Social.' It's a new kind of agency that combines an innate understanding of social media with digital, PR and marketing skills and entirely focuses on innovative, creative and effective social media marketing and communications. We wanted to know why Tom thinks it is so important that brands create and use crafted content in their social communications, which recent social campaigns have inspired him most and finally, which brands are leading the way in terms of blending creative, social and innovation?
Hello Tom. Could you try and describe yourself in 5 words?
Hmmm… I have 4 so far being, failed musician, chef and comic… I'm looking to finish on a positive note though. Do you have any suggestions? How would you say "I am good at social media in one word, without sounding like a ****?"
We could come back to it… or not. Next question, why does social media and word of mouth marketing matter to you?
Well I started out in mobile role before working for digital agencies. I just love the idea that you can take a creative idea and transform it into a digital one with the potential of a global audience. It wasn't until web 2.0 came along and the internet became driven by real people's content that it got really exciting. The composition of content, unification of digital with real people and creativity was (and still is) a fascinating blend. If you took people's unedited content (UGC) out of the internet – it would be far less interesting.
So in your opinion, which brands are currently leading the way with creativity, innovation and a killer social media strategy? Why?
The Heinz Baked Beans community is remarkable. Heinz have taken the time to listen to what their community wants, "the Beaniez" remain loyal ambassadors because they are served content that entertains them as a community but this same content, also serves the marketing needs of the brand. Great social content needs to sit between these two things, the needs of the brand and the wants of the audience. Heinz launched 'Five Beanz' which was aimed at a more mature audience, for this they generated a quiz through Facebook about which kind of bean suits you, every hour one member of the Beaniez community won an actual bean with their name on it! It got the point across about the new product but also gave the users something playful with gratification through a unique prize.
A very unique prize indeed. I would like to know more about how someone's name fits onto a bean! Consumers of content have more choice now-days through multiple channels and consequently brands (the content creators) need to be more strategic with what they share without compromising their identity. Do you think that design, animation, illustration and hand crafted typography play a significant part in delivering more stand-out and effective communications?
I think that something only stands out if it is different. When a brand jumps on a trending design band-wagon they are instantly reducing their opportunity to stand out. Nike have a beautiful design consistency which is applied across all their marketing channels; even if you are just scrolling and not paying too much attention you still get an impression that you've seen something from Nike. Strong visual identity is very powerful in social media and some brands foolishly ignore this. Gillette is a good example of how of design can let a brand down. Stop frame animation through vine for example is more important than ever to be breath-takingly amazing and my favourite example of this would be The Times.
What was your last social media update?
Paul Wentworth @paultwentworth "Tweet that and I will f**king murder you" #IPA44Club Retweeted by Tom Ollerton
I feel a bit scared now. Can we change the subject please? Which marketing buzzword drives you insane?
Yes we can change the subject. 'POWERPOINT' drives me insane. The over-use of this in the industry is staggeringly disappointing!
Maybe they should create animations or infographics for presentations instead? Who would be your dream professional collaboration?
I'd like to see an amazing Social Media agency and Mobile agency combine to produce mobile and social only campaigns. I think this combo will be the next breakthrough player in the agency space.
Interesting. I am sure it's something WeAreSocial are considering as the dominance of dual screening continues to ensue. What is the next event that you will be attending?
I'll be heading to Social Media Week. (http://socialmediaweek.org/)
What is the best piece of 'constructive criticism' you have received in your career thus far?
Ha-ha, someone once said, "If you spent all the time you do moaning on practising your art – you would be much better at it."
Which blogs do you follow to keep your finger on the pulse?
I use tools like flip-board and trap-it but the one resource I cannot do without is our own blog wearesocial.net. It's the home of the need-to-know info about all things related to social media.
Right and finally, can you describe your perfect day?
Ask me on twitter @mrtomollerton…