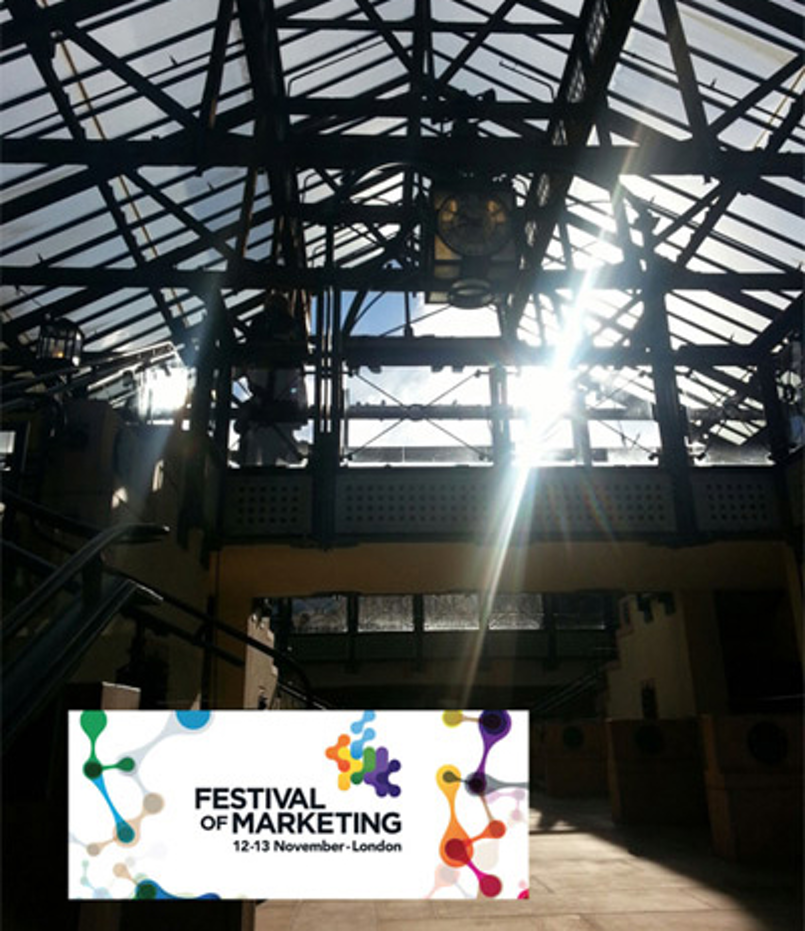 The old tobacco warehouses have been refurbished to flaunt their arched redbrick walls and allow sunlight to flood in through the skylights, giving visitors the sense of being on an excursion rather than a conference. The venue is used to its full capacity, with stalls lining the building's intriguing corridors, adding to an overall sense of discovery.
The 2-day programme is stacked with an eclectic variety of sessions and talks that cover every aspect of what makes marketing tick. There are big names such as strategist and former spin doctor Alistair Campbell, nostalgia inducing ones such as Grandmaster Flash and 6 bite-sized 30 minute sessions on topical tracks: content, brand & creative, insight, strategy, customer experience, data & analytics and multichannel.
'Don't bore us, get to the chorus' – Roxette
Catherine Toole of Sticky Content whirls through a highly entertaining and original series of content strategies that content creators can learn from pop.
From will.i.am we learn to play at our strengths: you don't need to be a great singer to be a global superstar if you know who to collaborate with. In other words: don't pretend to be an expert when you're not. Instead, invite experts to speak on your behalf, and curate content that conveys the right message.
To all brands, creative content creators will say: take risks! Looking at pop, what was outrageous and daring at the time, has decades later proved itself immortal. Think the Beatles, Kate Bush and almost everything Madonna did in the 1980s&'90s. This 1950s spoof ad for the inherently dull Cisco ASR9000 says it all.
Finally, Sticky Content cites Roxette's 1995 Greates Hits compilation in saying: 'Don't bore us, get to the chorus.' Which is every single creative content maker's ultimate challenge.
Strategy: we need to mix it up.
Wayne Arnold, CEO of Lowe Profero makes a compelling argument when it comes to young talent in marketing:the market may be global, but our talent isn't. We're simply too white. As an industry, we need to endeavour to bring marketing and creative jobs into the sphere of the professional, where future generations from any ethnic background consider our industry to be just as aspirational to work in as traditionally highly sought after professions, such as becoming a doctor or a lawyer.
Social: 'Wake up and smell the internet.'
Philip Byrne, creative director of the branded arm of one of our all-time favourite places on the internet, Buzzfeed, presses branded content creators to wake up and smell the internet, for the third time.
The First Age of Internet was for print things on a screen with a url. It was completely static and a mere extension of our analogue existence.
The Second Age of Internet is when traffic, usability and SEO started to matter, the web was being quantified.
The Third Age of Internet is now, and this age is social: chains and circles of humans are interacting, sharing and caring online. We are qualifying the internet.
Where Buzzfeed started as The Bored at Work Network, it has evolved into the Bored Online Network. Social content is the main source of content referral, and the reason we share content as individuals is to reflect our identity: we tell stories of who we are and who we want to be. Which is why brands need to step away from their own identities and learn how to earn their place in people's (digital) social lives.
Byrne's recommendations for being interesting online:
- Most brands are bat shit bonkers. Imagine talking about yourself as much as brands talk about themselves at a dinner party: you'd never be invited again.
- So be brave, the www is simply not all about you.
- Recognise that you might not be the expert.
- Everyone is an editor, and we're all super selective.
- Don't ride on vapid hypes: your readers are on to you, and the sugar rush won't last.
And finally: social isn't a marketing technique, it's a way of thinking. Social is naturally about sharing; it's generous, caring and empathic. The only way for brands to get repeat invites to this dinner party is if they are too.
Brand and creative: the Tomorrow's project for the Prince's Trust
CHI showcases a beautiful project they created for their client the Prince's Trust, aiming to help young people in Britain. CHI worked to break away from traditional fundraising methods used in advertising, and focused on the story instead. In one all-encompassing and emotive strapline: Young people are our tomorrow, trust them today.
CHI partnered up today's industry leaders with promising young talent, and created a physical space in London where the Tomorrow's project becomes tangible: a store with a story. It shone through that CHI's creatives and The Prince's Trust had built a great relationship based on trust and collaboration – something that can only lead to the best ideas becoming great in reality.
The Future of web: usability trumps persuasion.
It's rare to hear a digital design guru say "for f***'s sake, stop innovating!" – but that's just what Russell Davies, creative director of gov.uk has been doing.
In an inspirational oratory session supported by audio-visual extras, he makes a point that many of us will have picked up on, but won't have processed in the same way: we are moving from passive consumption of advertising (like TVC) to a world of usability. This doesn't mean advertising should be clickable, it means that good user experience is more persuasive than persuasive creative ads telling you that a product is good to use.
And that's why Davies told his creative team to stop inventing new stuff, and focus on fixing the basics. It won gov.uk a Design of the Year award.
He emphasises that in digital, the product is the marketing and vice versa: there's no point spending millions on an ad telling people that the government has launched a new website: the improved user experience advertises itself.
Finally, our way of strategising and creating has revolutionised, because it takes just as long to write a piece of code as to have a meeting about whether you should. So make it, try it, do it. And the more everybody shares their ideas and their code, the better we can make things.
'Right now, you should all be embarrassed because the UK government has a better website than you do.' That's a good sort of embarrassment that designers, coders, marketers, strategists, content creators and all the rest of using and making digital reality can take home.