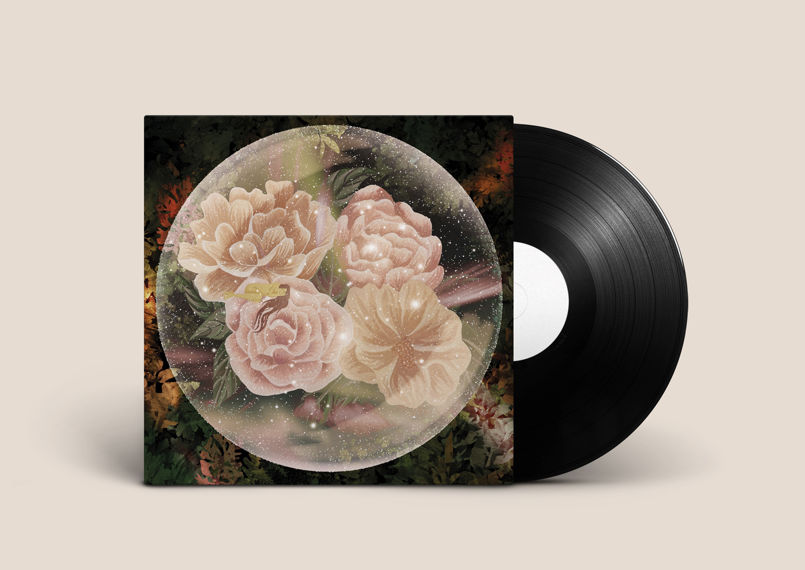 This year's Secret 7" exhibition was yet another triumph. With over 700 anonymously designed sleeves on display, art & music fans alike packed into London's spacious Sonos Studio to take a sneak preview before sale day. Once Bank Holiday weekend rolled around, dedicated fans queued overnight to get their hands on a sleeve (or 5) as each vinyl single went up for sale to raise money for Amnesty International UK.
As ever, Jelly London's artists were kindly invited to get involved in the exhibition, and now that all of the records have been sold, we can finally reveal which sleeve belonged to whom...
Artist: Mariana Rodrigues
Track: Dream 3 - Max Richter
"Listening to Max Richter's Dream 3 takes me to a calm and magical place. It makes me feel happy and warm, weightless and free.
The melody surrounds every bit of my soul and feeds my imagination. It's a true invitation to dream.
This illustration is my happy place, my Dream.
I invite you to do the same. Listen to this track and travel to your happy place. Your magical Dream."
Artist: James Dawe
Track: Dream 3 - Max Richter
"My design inspiration was based on Max Richter's whole sleep sequence lasting 8 hours long.
Seeing as his music gently flows and pulses like a city at night, I created an abstract pillow made from rendered manmade material and terrain - mapping a city asleep.
A concrete sphere falls into a synthetic cushion..."
Artist: Alex Tait
Track: At Last - Etta James
"Reunited in death."
Artist: Melvin Galapon
Track: Clearest Blue - CHVRCHES
"Inspired by the lyric 'meet me halfway' the idea of creating a shape made out of 2 halves becoming one came to mind. The upside down triangle is made from a single sheet of acrylic resting on a surface reflected to make a whole shape and echoes the V in the unique spelling of their name."
Photography by György Kõrössy
Artist: Hannah Warren
Track: Dream 3 - Max Richter
"The inspiration is from my own dream diaries that I kept for many years during art college. They are full of weird drawings and what I can remember from the night. I'm a light sleeper and they were usually bonkers, often involved toilets and being naked. The drawings on the cover are taken directly from the diaries, including some of the people I met in my slumber. The song itself really reminded me of the feeling of falling asleep and the in-between state of being in a light sleep and still a little aware of your surroundings. It was great to work with something without words, that I could attach my own thoughts and feelings to, it takes me to a different place each time. "
Artist: Damien Weighill
Track: Imagine - John Lennon
"No hell below us
Above us only sky
Imagine all the bird-people
Living for today..."
Artist: Caroline Tomlinson
Track: Imagine - John Lennon
Artist: Matt Johnstone
Track: Imagine - John Lennon
"Sadly the world that John Lennon dreamt about doesn't exist. I imagined pushing the factory reset button to start again."
Artist: Matt Lyon
Track: Dream 3 - Max Richter
Artist: Jordan Andrew Carter
Track: At Last - Etta James
Huge congrats goes to Kevin King @ Secret 7" - Thanks for having us!
Did you pick up one of our artist's sleeves? Tag us in your pics! @jellylondon