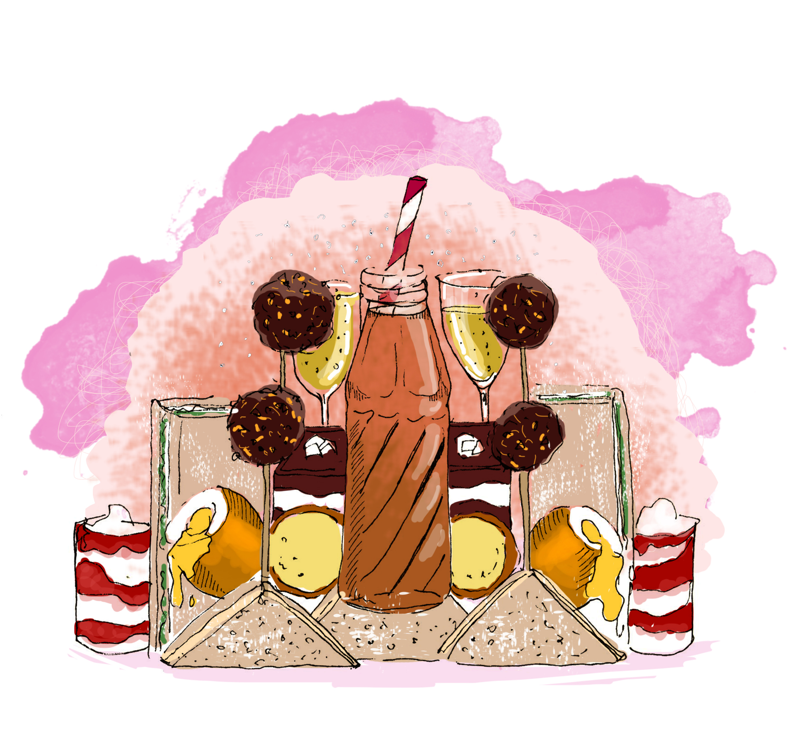 To celebrate Afternoon Tea Week, all this week, jelly's incredibly talented & speedy Jo Bird has been illustrating our top picks in alternative afternoon teas that can be found in London
From burlesque babes, to golden eggs & candyfloss, there's something for everyone in our tasty Top 5...
Volupte Lounge Afternoon Tease
The classic cream tea gets a saucy makeover

Volupte Lounge's 'Afternoon Tease' is not for the afternoon tea traditionalist or the faint-hearted. This experience involves burlesque entertainment, champagne cocktails, tea-leaf reading & even cabaret singers. Platters filled with sticky buns, cream-filled cakes and dollops of jams provide suitably indulgent refreshment, served up by titillating "teasemaids."

Where? 9 Norwich Street, Holborn, London, EC4A 1EJ
Nearest Tube: Chancery Lane
Price: £42 - Afternoon Tease

High Tea gets an American twist

Amidst the hustle & bustle of Soho, this humble burger restaurant gives the British tradition a radical make-over serving up mini American burgers, brownies, milkshakes & iced-tea in place of cucumber sandwiches and scones. Perfect for the man, or meat-enthusiast in your life.
Where? 187 Wardour Street, Soho, London, W1F 8ZB
Nearest Tube: Oxford Circus / Tottenham Court Road
Price: £17 per person
A classic afternoon tea aboard a vintage Routemaster bus

Fancy a bit of sight-seeing with you afternoon tea? Grab your friends and hop aboard the BB Bakery Afternoon Tea Bus Tour! The tour invites guests upon a London Routemaster bus to feast on sandwiches and scones whilst capturing the heart of the city's culture, landmarks and history. As you tuck into your mini cupcakes, macarons, mini quiche and pasties, you'll pass by The London Eye, Big Ben, St James's Park, The Royal Albert Hall, Nelson's Column and many more.
Where: 8 Northumberland Avenue, Westminster, London, WC2N 5BY
Tube: Charing Cross / Embankment / Leicester Square
Price: Adult from £45 / Child from £35
Grand Imperial Oriental Afternoon Tea
A Cantonese twist on the British tradition
The Grand Imperial 'Oriental Afternoon Tea' at the Grosvenor Hotel, London, replaces traditional cakes, sandwiches & pastries with Hong Kong Cantonese delicacies such as pork buns, dim sum & prawn crackers. The restaurant itself has been designed around the ancient practice of Feng-shui & features original artwork and calligraphy, as well as traditional artifacts. The unlimited refills of Chinese tea take the spotlight, with a number of floral varieties and fermented options.

Where? 101 Buckingham Palace Road, Victoria, London, SW1W 0SJ
Nearest Tube: Victoria
Price: £22 for two people, £30 for the addition of two glasses of champagne
A scrumdiddlyumptious afternoon tea inspired by a Roald Dahl classic

Inspired by their partnership with the West End's musical production of Charlie & the Chocolate Factory, One Aldwych's child-friendly afternoon tea features decadent golden eggs, blueberry brioche and playful flavoured candy floss. Every item reflects the wit and wonder of Roald Dahl's classic tale.
Where: 1 Aldwych, London WC2B 4BZ
Nearest Tube: Temple / Covent Garden
Price: £37.50
Illustrations by Jo Bird. See more of her work by clicking the pink tab below.