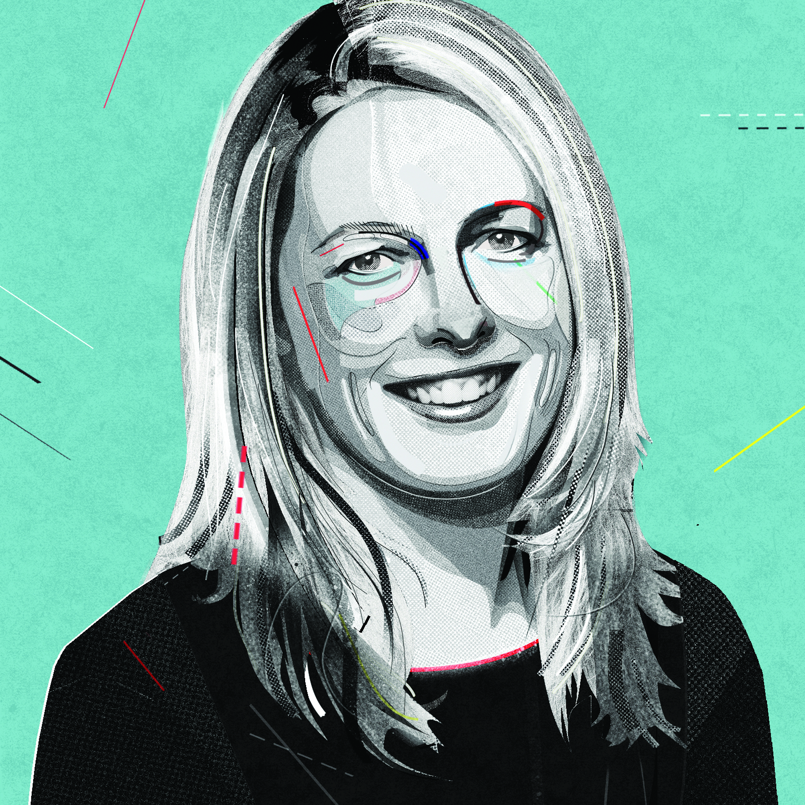 Our friend Julia Sagar is the Deputy Editor at Computer Arts. We wanted to know more about her inspirations, how she keeps abreast of up-and-coming industry trends, what advice she has for new blood and most of all, why design matters to her…
How do you keep your finger on the pulse in terms of new creative work? Do you use social media? What are your favourite blogs in term of creative content? I'm always on the lookout for cool new work. I keep an eye on various design websites and blogs – Balance, Motionographer, FormFiftyFive, DesignWorkLife, Fubiz, ItsNiceThat, Newgrids and The Fox is Black are some of my faves – but I do a lot of reading generally about design and attend a lot of exhibitions, design festivals, conferences, gallery nights, industry events and so on. It's all about looking at what's around you – be it a cool poster in the street or artwork in a bar – and talking to people. To that end, Twitter is a bloody great way to discover new people doing amazing new things.
Where do you look for inspiration? What are your interests outside Computer Arts? I look everywhere! I live in Bristol and there's inspiration around every corner (no joke): awesome graffiti, café murals, club-night posters, cool signage, random installations… It's a super creative city with lots going on. Outside of work I spend a lot of time cycling and traveling, both of which keep me awake to what's going on around me. Nepal is my next big trip. Other than Katmandu I have no idea where I'm going yet or what I'm going to do, but I'm looking forward to being immersed in a new culture, learning new customs and meeting new people.
Do you have any pearls of wisdom to new design, animation or illustration blood? Find time for self-initiated projects and always keep experimenting. Also, think about what you put in your portfolio – does it show where you want to go? You'll be commissioned or hired on what people see, so make sure your work clearly shows the direction in which you want to go, not just where you've been.
What is the most inspiring campaign you have covered in the last two months? Good question – depends what you mean by 'campaign'. Advertising-wise we're pretty big fans of Nike's Reuse a Shoe campaign in the CA office. It's provided an exciting vehicle of creative expression for different studios: Serial Cut's visual representation of the program's recycling process is inspiring and we love Manvsmachine's fluid response. Branding is more our focus in CA though: One very cool recent project we covered in issue 217 is Non Format's new identity for Norway's Only Connect Festival of Sound. Instead of reusing the same design formula they crafted the year before, Kjell Ekhorn and Jon Forss took a risk and developed a really bold new graphic language for the event – based on a robot mascot. They also designed a custom typeface and rolled out the new identity across the event's programme, booklets, posters, ads and new website design. The project packs a massive visual punch – in fact some festival-goers were actually reluctant to pick up the programme at first because the design was so slick that they assumed they'd have to pay for it. Non-Format created an animation of the robot face as well, which cycles through 137 variations of robot facial expressions. It's brilliant. Makes me wish I'd been at the festival just to pick up a programme!
What do you think the next trend in animation / CGI will be? 2013 has been interesting… On the one hand you've got increasingly affordable technology levelling the field, enabling studios and freelancers with smaller budgets to take on projects more normally associated with bigger studios. And on the other you've got factors like reduced budgets, outsourcing and so on that are contributing to the collapse of some of the established heavyweight CG and VFX houses. It's all pointing towards increased accessibility, collaboration and creativity. In terms of future trends, technology is going to continue rewriting the rules for the CGI and animation industries, opening up doors for a new generation of independent Creatives that previously might have been priced out of the market unless they joined a big studio. At Siggraph this year stop-motion director Henry Selick pointed out that companies like Netflix and Amazon are introducing brand new paths into the live action and animations industries as we speak, and websites like YouTube already give anyone and everyone a platform from which to show their work... Not only are the tools becoming increasingly accessible price-wise, their improved functionality is also opening up the industry to Creatives. The boundaries between working in 2D and 3D are already blurred, for example, with non-3D artists increasingly experimenting with CG, I'd expect this to continue with more tools like Cineware and Cinema 4D Lite. Add in the likes of Kickstarter and other crowd-funding platforms, and suddenly a whole new pool of Creatives not only have access to powerful new technology – they also have the financial means to bring far more ambitious animation and CGI projects to life. This can only mean more experimentation and more creativity on a much wider scale. It's an exciting time!
And finally… Why does design matter to you? Design gives the world a framework. It makes ideas tangible and has the power to shape views. Good design can change lives and make the world better, when it's used in the right way – that's the challenge.