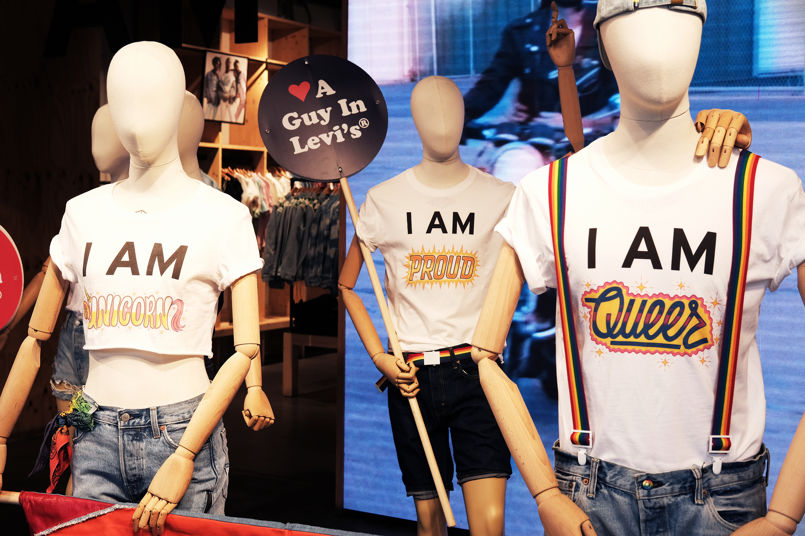 Justin Poulter was asked by Levi's UK to create seventeen t-shirt graphics celebrating Pride 2018. These t-shirts are available at the Levis in-store Print Bar worldwide.

Levi Strauss & Co.'s core beliefs are rooted in empathy and courage. Since their inception in 1853, they have striven to champion equality, inclusiveness and progress. They have been longstanding, vocal supporters of LGBTQ equality and one of the ways they celebrate the LGBTQ community is through their annual PRIDE collection.

This year's PRIDE collection celebrates love, acceptance, diversity and inclusivity. The theme is: "I AM______" and they're asking YOU to fill in the blank. Be who you are, whoever you are. And be proud of it.

The "I AM______" tees allow customers to be that individual by customising each tee to their liking. Whether it says, "I AM GAY," "I AM PROUD," "I AM UNIQUE" or "I AM ME," "I AM______" is the most honest and direct declaration of self. Wearing a specific garment can be a visual badge of honour that stands for both individuality AND solidarity – while celebrating equality.

The Spring/Summer 2018 Pride Collection will include sleeveless tees in white and black featuring a rainbow gradient version of the iconic Levi's® Batwing, a Trucker jacket with rainbow embroidery and Levi's signature Tab in celebratory rainbow, and 501® original cutoff shorts with rainbow shank and a rainbow Tab.
Accessories will include baseball caps, web belts and suspenders, bandanas, beanies, and socks and underwear to finish off your look. Because to be truly proud, what's on the outside matters just as much as what's on the inside! The iconic multicolour flag got a little tweak this season as a rainbow-hued ombre design on a bandana. And for the purist, the classic Pride logo is featured on a washed denim hat and on a stonewashed denim tote that can be worn year-round, so you can show your support no matter the season.

Spring 2018 marks the five-year anniversary of the Levi's® Pride Collection and more than three decades of supporting LGBTQ causes—from leading the way as the first Fortune 500 company to offer partner benefits over twenty years ago, to consistently scoring 100% on the Human Rights Campaign's Corporate Equality Index as one of America's best places to work for LGBTQ employees. In 2007 Levi's® was the first and only California business to file an amicus curiae brief with the California Supreme Court in support of marriage equality, and in 2014, it joined the coalition of marriage equality supporters to persuade the US Supreme Court to recognise the right of all American citizens to marry whomever they wish! Each year, 100% of the proceeds from the Levi's® PRIDE collection are donated to support our LGBTQ partner organisations: Harvey Milk Foundation and Stonewall Community Foundation.
Levi's® will be participating in three parades around Europe, including making a bold statement in London and Stockholm with a custom built float.
• London Parade – 7th July
• Madrid Parade – 7th July
• Stockholm Parade - 4th August