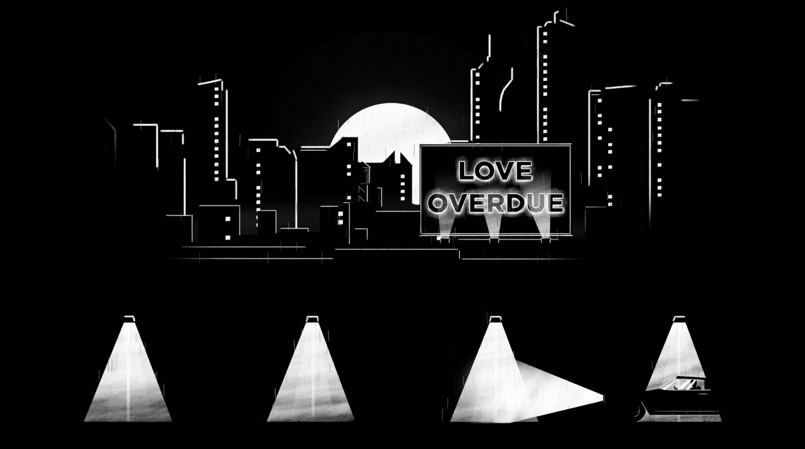 Animated by the awesome guys at jelly Kitchen, legendary Rolling Stones guitarist Keith Richards has revealed the video for his latest solo single "Love Overdue."
Described by Maxim as being "classically cool", the moody, monochromatic animation effortlessly complements Keith's softer new sound.
The team behind bringing the track to life were jelly Kitchen's directing duo Sam Burton and George Coffey. We spoke to them about creating the poignant animated film:

The brief you were given for creating the "Love Overdue" music video was pretty open. Can you talk us through the concept behind your animation?
SB> The concept of our film follows a central character as he slowly comes to terms with the loss of his love. We wanted to take the viewer on an emotional journey with our character as he struggles to move on with his life.
GC> We took a lot of inspiration from the lyrics. Once you listen to them, you realise it's a very touching song about losing someone you loved, and continuously being reminded of the emptiness they left behind. With that in mind, we just wanted to tell this story. It all escalates to the main character feeling he can't take anymore. Until he finishes off with a drink and possibly the realisation that he'll be able to get over it.


The video has already received rave reviews and has been described as "stylistic" & "moody" by Rolling Stone – What inspired you to create the animation in black & white?
SB> We wanted the look of the film to be bold and engaging. Using only black and white was a daring choice, but we felt it had a stronger visual impact and allows the audience to connect with the emotions of our character as his story unfolds. We created the video in a film noir style; Taking influences from Saul Bass and Noma Bar, we played with using negative space and lighting techniques to build the world in which our character exists. This style allowed us to reveal the scenes in a fluid and often unexpected way, keeping the viewer engaged throughout. When designing the look of the film I wanted to use light as a way to reveal the character as he moved through his journey.


Can you tell us a little more about the techniques and processes you used?
SB> The characters and environments were created in a flat graphic style with the addition of hand illustrated brush strokes. Traditional cell animation techniques were then mixed with 3d to allow us to add depth and dynamic camera to the scenes and help tell the story.


In the penultimate shot, silhouetted by the light, the central character is revealed to be Richards himself. What was the reason for saving his identity until last?
GC> We wanted to keep the character ambiguous until the end so that people could relate to what the person was going through.