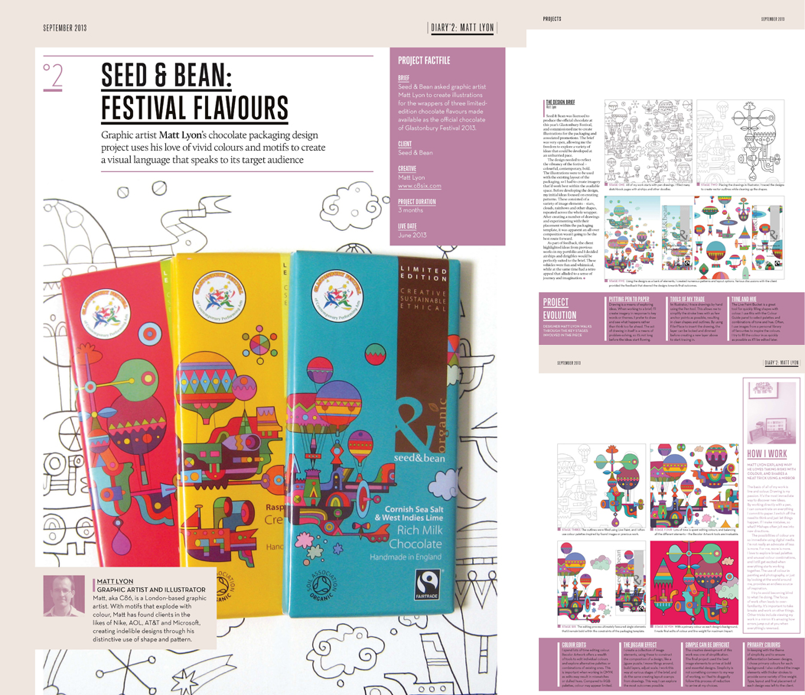 Seed and Bean, the creative, sustainable and ethical chocolatiers have created three exquisite limited edition chocolate bars especially for Glastonbury this summer as they have been chosen by Robert Richards, Commercial Director for the Festival for their ethical credentials and delicious flavours. And check this jelly; Matt Lyon has been commissioned to design the packaging for the three luxurious flavours which include, Cornish Sea Salt and Tropical Lime, Raspberry and Vanilla and Sicilian Hazelnut.
Stephen of Seed and Bean came down to jelly London to meet with our illustration reps and to deliver his creative brief. He wanted a design that was exciting and encapsulated the spirit of the iconic music festival through colour and folk pattern.
In case you didn't know, folk art and pattern design are Matt Lyon's speciality and he interpreted the unique flavours and the spirit of the festival impeccably, taking the theme even further than Stephen had expected. Seed and Bean feel that the illustrations are retro, abstract and completely uplifting. So, if you were lucky enough to get tickets for Glastonbury this year, indulge yourself, savour the flavour and appreciate some vibrant art work.
*Computer Arts featured Matt in their 'diary project' special...