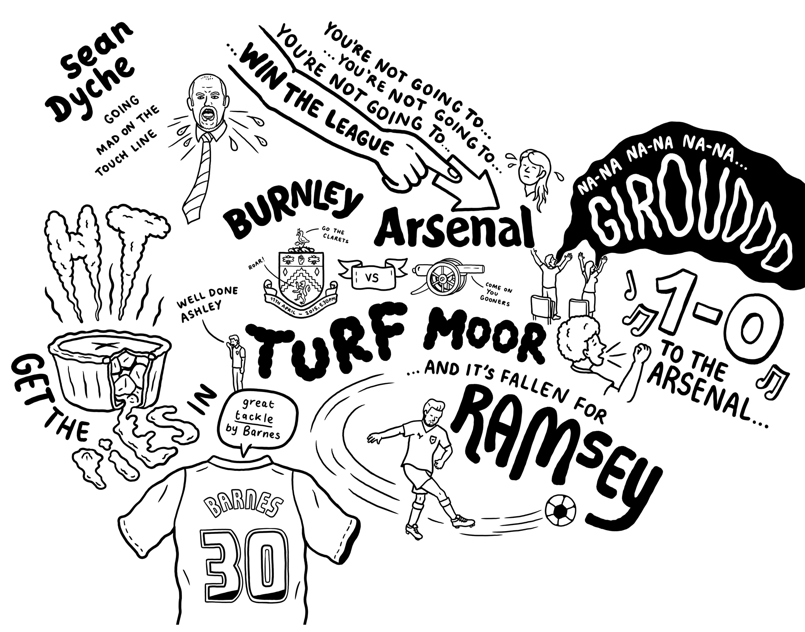 Last year Eurostar turned 20. To celebrate, they asked jelly's Matt Johnstone to do a special live event in the Eurostar departure lounge.
Working directly onto a large canvas Matt spent the weekend illustrating the comments of Euro Star customers, about the 20 year relationship between London, Paris and Brussels, bringing people and culture together.
This year, Matt decided to take his live art to Instagram.
Combining his love for footie, with his talent for live art, Matt armed with himself with a tablet and illustrated the Burnley vs. Arsenal game as it evolved.
The results were uploaded bit by bit, straight to Instagram within minutes...
This test comes as part of jelly's investigation into ways to create the content you need, as fast as you need it. Mixing our expertise in image creation, live art and no fear, we've been playing with real-time social media content, that's responsive, shareable and fast - testing our artist's speed and agility.
Exciting times ahead...
Be in the know! Follow us: Facebook, Instagram, Twitter and Pinterest.