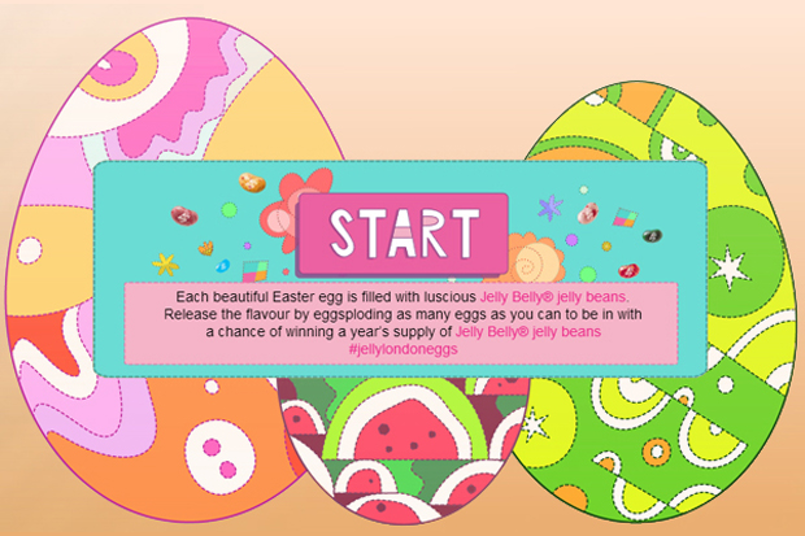 Click here to play #JellyLondonEggs game!!
Jelly London wanted to create something extraordinary and enjoyable this Easter so we had a good old think about which brand we would like to work with on an interactive, collaborative and creative project. Now when we thought about Easter the first thing that came to mind was chocolate, but that was just too obvious for us and chocolate is not made of jelly either. Whilst we pondered together munching through the bags of luscious Jelly Belly® jelly beans which we keep up in our Charlotte Mews studio, an idea struck us like a booming flavour explosion - we realised that our dream candy collaboration for this project was without a doubt, Jelly Belly® UK. (And how on brand it was!)
After looking into how Jelly Belly® UK are positioning themselves on the market using art as an engaging means of communication via their social channels, we put two and two together and decided to pitch in the idea of merging a flavour sensation with a visually stimulating and interactive game. We thought, quite literally, that we would crack up the conception that Easter has to be all about chocolate eggs with an eggsplosive game.
Click here to play #JellyLondonEggs game!!
We asked jelly London artist, Matt Lyon to beautifully illustrate bespoke egg designs for each flavour so that the user can use either their mouse or finger on an iPad to burst open one of the 15 featured flavours and watch as the eggs explode with Jelly Belly® jelly beans. The game was developed using Box2D to give each element, be it an egg or a jelly bean, graceful physics which allows them to gently bounce off each other and around the screen in a responsive way to the users touch.
Jelly Belly® UK were so excited about our Easter game idea, (particularly as this is normally the time of year when Chocolate is the treat on everyone's lips) that they promised to give the person who explodes the most illustrated eggs in the designated time a fabulous prize; a year's supply of Jelly Belly® Beans and a retro Jelly Belly® Bean machine. Five runners-up will also receive a fabulous Jelly Belly® hamper prize for taking part! Terms & Conditions apply. Players must be over 16 and living in the United Kingdom to apply. The lucky winners will be announced on Friday 5th April.
We are so excited to let you experience the 15 flavours which feature in the campaign and to wait and see who will win the greatest Jelly Belly® jelly bean prize.
It's just our way of saying, we hope that you have a fun, tasty, lucky and most of all Happy #Easter!