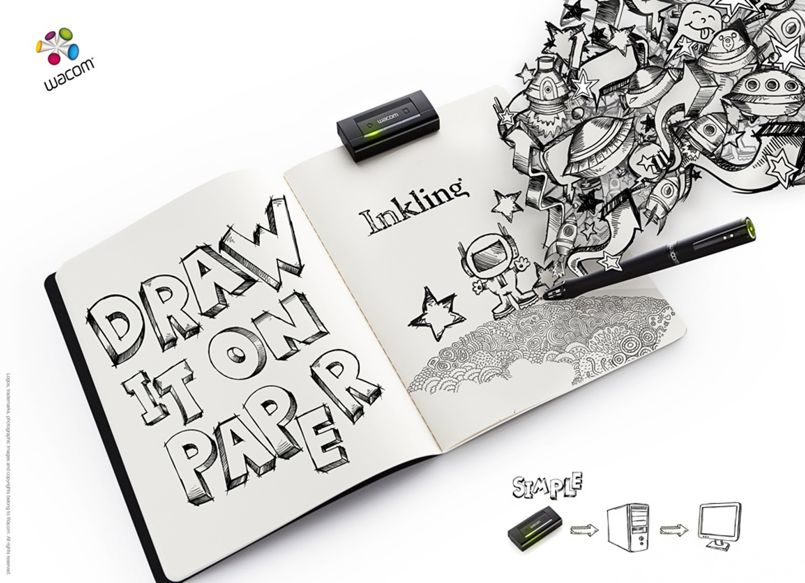 You've seen our artists work and fantastic talent; now we're giving you the opportunity to find out a little bit more about the personal side of our artists - what inspires them? What makes them tick?
Week by week we'll be going through our roster with a series of questions. We'd thought we'd kick it off with our internationally renowned commercial artist, Neil Duerden!
Who are you idols?
My main idol has to be Vaughan Oliver, he was the driving force for almost all 4AD releases. During my early years as a designer I found his work memorising and hypnotic, amazed by the treatment for each new release by the legendary record label. His work is both dramatic and subtle, yet overall changed graphic design and influenced illustration for a generation.
What's your favourite snack while working?
I have a particular obsession with Lakeland Steak and Cheese Pies... they are just so delicious! I hate to admit this publicly but I can eat 4 quite happily and still want more. Then realise it's going to take me hour of exercise to burn them off.
What's your favourite music to work to?
Right. I'm a true audiophile nerd. I source valves from around the globe for amplifiers, rare cabling etc. (apparently it's not a condition that can be treated) I still love and appreciate vinyl and its music superiority. I listen to the most diverse music ranging from Sigur Rós through to Ennio Morricone, Spiritualized through to PWEI. Music plays a major part in my life, whether it's background whilst I work or dedicated listening sessions. It can both influence the way you feel and think, usually in a positive way which is good!
What's the highlight of your career so far?
There have been many, from when I was young working on large scale beer promotions as a freelance designer, to first seeing billboards all over showing my work in its full glory. As an illustrator my favourite job has to be the launch work for the Honda FIT in the States. The campaign illustrations were inspiring, the direction perfect and the client willing to think about new quirky ideas. It was great to see the graphics everywhere! It's strange as even to this day it still gives me a great feeling of excitement to see my work live and doing its job.
What was the most stressful job and how did you resolve it?
No names mentioned here, but I worked on a Canadian campaign and the agents warned me that this probably would be the most stressful job I ever undertook due to the Art Director. It started and the amends and direction become impossible, the piece should have been a joy and a fine folio piece but due to opposite directions and constant moving of the goal posts it just couldn't work. I managed to actually turn the concept round, but the result was reactive as opposed to inspired and although did convey the message it looked very wallpaper(ish) and fluffy. I actually got a fantastic email from the agent after saying that he'd actually never known anyone handle that Art Director better, most people basically told him where to go.
What's the best technical discovery for you?
I could answer this intellectually and spout on about the fantastic new materials created that conduct electric faster than anything previously discovered, making future computers hundreds of times faster. However, for me the best break through has to be the good old printing press. It's not just because I love print as a medium; imagine a world where information wasn't stored. Knowledge would be passed down generations and most things forgotten, or scribed in books taking years to create. I think it was Johannes Gutenberg in the 1400, he helped shape the modern world.
Who's your dream client?
It would have to be either large sportswear brand or car manufacturer. The reason being they have the budgets to get work across all mediums and really penetrate their markets meaning more exposure. Also they are always forward thinking in their ideas and executions. It's clients of this scale that can alter our perception of advertising treatments in one campaign and to be a part of that movement would be super.
Describe your work in 3 words
Directional, Purposeful, Energetic
What's your favourite decade and why?
1980-90's. Pure madness. Everything was happening at the same time from crazy clubbing weekend, climbing holidays and the birth of my first daughter. I met a lot of crazy people and most I still see today. I also remember seeing the flyer artwork from "back in the good old days," nothing had been created previously to match this level of graphic treatment with studios like The Designers Republic, Attik, etc... leading the way. Good inspired times.
Tell us 3 strange facts about you
1. I spend 12 hours a week underground. 2. I nearly bought a 180ft brick chimney. 3. During a road trip across Europe and Russia I met my doppelgänger in Kiev.