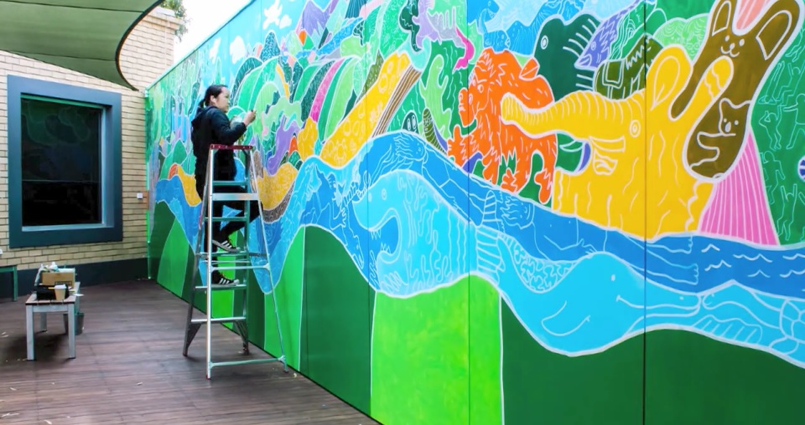 Mural in motion: 55 hours of painting in 2 mins from ABC Open Goulburn Valley on Vimeo.
Ever wondered how long it would take to paint an intricate & colourful landscape onto a really, really big wall?

Just two minutes apparently!
The awesome Mimi Leung has created this 17x3m long mural at Shepperton Library, and her husband, Will Kendrew, has documented the whole thing in just 2 speedy minutes.

The colourful wall art took 55 hours to paint, but Will seized the opportunity to experiment with his make-shift time-lapse gadgets to show the entire process behind Mimi's massive masterpiece.
Using the genius combination of: a skateboard, some fishing line, a BBQ rotisserie motor, some carpet cut-offs, a 24hr electric timer, some blutac and a piece of wood, he managed to create a puprose-built rig to film the awesome time-lapse video, which perfectly showcases the skill and time that went into Mimi's mural. He also composed the track over the top to keep all sounds relating to Mimi's artisitic movements on the screen. A really lovely touch!
See more of Mimi's vibrant work here.