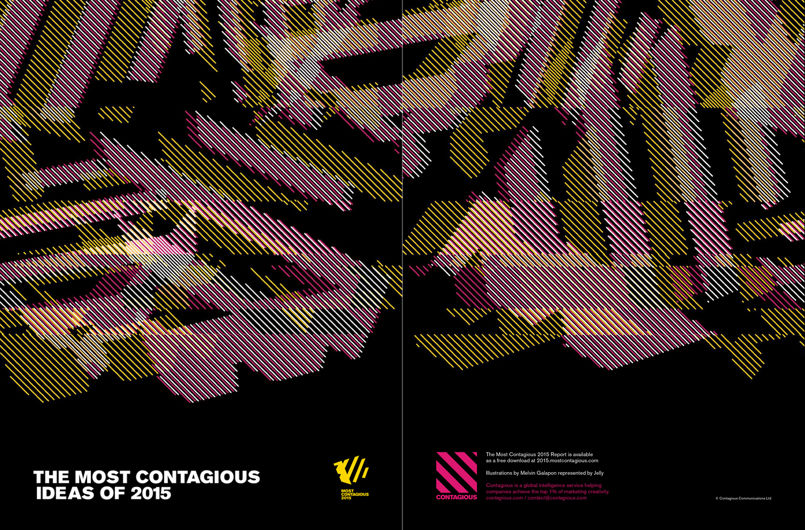 Melvin Galapon has collaborated with Contagious Magazine to create the cover of their Most Contagious 2015 report, ahead of the popular annual event.
The report, printed on a special stock, sits within Contagious Magazine's 45th Issue.
To create the cover, which wraps the report, Melvin used his unique style to play with Most Contagious' visual identity, using their logo variations and brand colours.
Melvin's work was also used throughout the 16 page feature to illustrate some of the headlines. Here's some work in progress images:
See more of Melvin's lettering work here.
Issue 45 is out now and also available for PDF download.
Most Contagious 2015 @ King's Place, London
Jelly's Head of Illustration Nicki Field popped down for the day and gave us a little insight & overview of the sold out, annual marketing and innovation event:
Most Contagious was a good few hours of the day sat in a dark room, pondering all things that affect the state of this crazy creative world. By the end, my brain ached. In a good way.
Before most Contagious, I knew how revered the Contagious teams opinion is and how coveted their mag. Afterwards, I could tell too of their dedication, passion and ability to inspire.
The thing that I took away the most was a call for a human touch in a space where things are about to get futuristic; VR, AI, Algorithms - 'the rise of the machines'. As well as an industry wide prediction, it happened at Most Contagious. We laughed a lot, that seemed important. This is serious stuff - but no-one's taking it so seriously not to have fun.
2015 was the year everyone realised people don't want to be sold to. Ad blocking is at a high. How do you sell to an audience who's number one downloaded App is an add blocker? You go stealth.
Exactly what Nils Leonards team at Grey inspired with Volvo Life Paint. Spending PR and marketing budget on promoting a product with skill and execution so in tune with a brands value, Volvo became the Most Contagious Brand of the Year. It's not a traditional ad but it worked. It shifted cars. Sales were made and the effect noted.
Nils captured the spirit with the poignant, 'The best ads don't look like ads'. Alongside soundbites like 'Bought is a last resort'. The traditional is moving out and Grey are proving it works.
At lunchtime, I did the opposite of resting my aching brain and headed to the Most Contagious debate, 'Are Algorithms killing Creativity?'
From Razorfish, Leo Burnett & StarCom Media Vest we heard three impassioned pleas each with a different take. Razorfish's Daniel Bonner's asked for tech to be valued in the right place and to think about the multi-dimensions embracing algorithms can give to content and creative work. Leo Burnett's Giles Hedger called for its pace to slow down until we learn to use it effectively.
Tech is bad when it's too techy - the human touch gets lost and people switch off. We were back to the A word: Adblockers. Gile's claimed ad blocking 'is one of the best things that has happened in this generation - healthy wake up call, tech co's won't decide how this plays out, it will be people.'
Contagious and Framestore presented VR. The overriding take was "it's happening", it's hype has passed, now we're in the "about to be applied in loads of different ways" phase. But one thing is clear - it is HARD TO MAKE. To be fully effective, you need real time rendered VR, full position tracking - which is HARD. The user needs to suspend belief at the simulation, the tech needs to disappear.
There was a case made for vertical viewing video as mobile video is soaring. AI Virtual assistants will become a thing. We learnt how ordering a pizza with an emoji was a perfect storm of a crazy idea in waiting. WE LEARNT EMOJIS ARE NEVER GOING AWAY.
But the standout talk for me, was Contagious' Alex Jenkins. A passionate, on point, hilarious but serious call for nothing less than brutal creativity. Anti-Creativity is everywhere. People say they aren't anti-it - watch out. They are fibbing. We're surrounded. Half the battle is being aware. Now you can fight it if you know. Creative work is x 12 times more successful. That's a tall claim - but you know these guys do their research and they care.