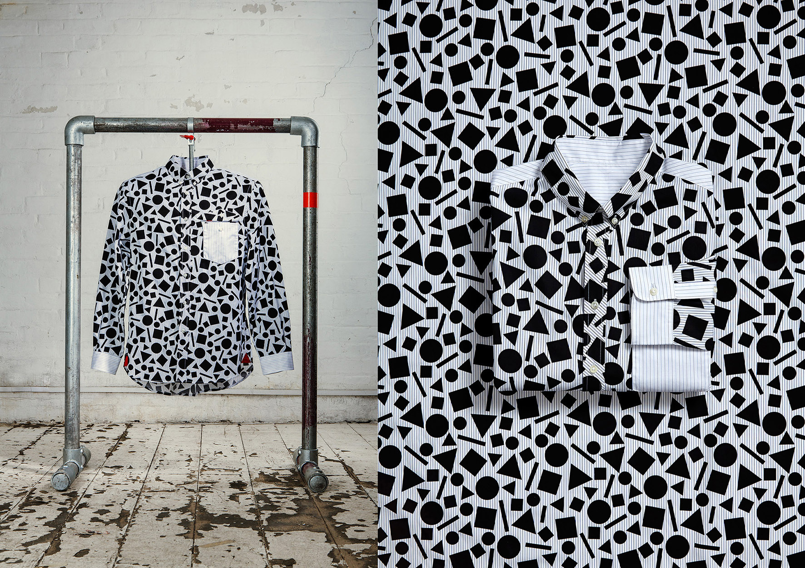 "The perfect product, conceived and created in London."
TEK is a unique project from London creative crew New Future Graphic, bespoke tailor Timothy Everest and fashion design pioneer Eley Kishimoto, born of a shared vision to define incisive new directions in print, tailoring and design. TEK is presented in a contemporary context, with construction that draws from and celebrates the best of British heritage and craft.
The first project for the partnership is The Shirt, a perfect starting point for a printer and a tailor. Eley Kishimoto hand screen-prints onto cotton, which then travels from the EK design studio in Brixton to Shoreditch, where Timothy Everest takes over to turn the fabric into garments. Art direction, manufacturing, packaging and branding is overseen by New Future Graphic. This first TEK project is a concerted effort to take a locally produced and crafted shirt to a global market.
About New Future Graphic
New Future Graphic stand out for their bold, colourful and inventive signature illustrative style. They formed in London in 2003 and have since grown into a multi-disciplinary creative studio covering a wide range of styles: paper craft, hand lettering and typography and screen printing to sharp vector pictographics. They've worked with a great bunch of clients such as Amnesty International, BBC, The British Council, Coca-Cola, Condé Nast, Clarks, D&AD, Gap, Google, Honda, Innocent, IPC Media, Levi's, Monocle, Nationwide, National Magazines, Pizza Express, Sony, Warner Bros and the V&A. New Future Graphic are represented by jelly London.
***Official Launch 2 October 2014***