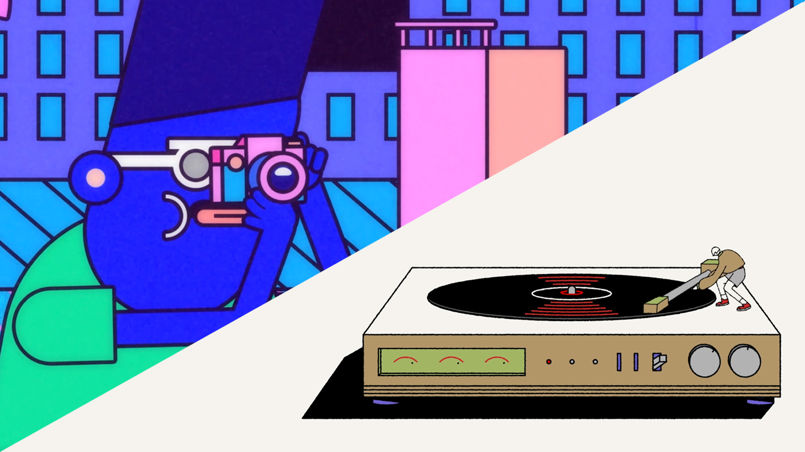 We've certainly been busy little bees over here at Jelly London HQ! Not only have we signed the whacky and wonderful Nice Shit onto our Animation roster but also Everyone's Favourite onto our Futures programme – how's that for news?
If you didn't know what Futures was, our 'Futures' programme finds the best, fresh emerging talent and cultivates their skills and portfolios for a step up into the business. Futures nurtures exciting new talent with the assurance of our management team.
So, to introduce our new directors onto the Jelly scene, we thought we would take some time out to find out who they are, what they do, and what makes them tick.


Jelly: Tell us how your collaboration all started

EF: Daisy has a background of fashion and styling and Tom has a background in animation and illustration. We were both talking one night about how cool it would be to combine both of these backgrounds and came up with the idea of creating pictures of ourselves that used styling and illustration to tell a story.
NS: Back in 2012, Rodier came down from the mountains in Córdoba, Guido escaped the cold beaches of Mar del Plata and Carmen, born and raised in Liguria, Italy, joined us for her internship after graduating at Hyper Island in Stockholm. We all met at an animation studio in Buenos Aires that no longer exists, and we instantly knew we had a master plan for the future.


Jelly: How would you describe your work?
EF: Fun and energetic! If we feel something isn't quite working, we'll realise it's because it's too subdued, there's not enough joy, vibrancy or charm. So we'll re-think, tweak until we have something that makes us feel buzzed. For us, the most important part of a piece of work is the character it radiates.
NS: We like to think we do smart work. We really enjoy the thought process behind every decision and feel really good when we manage to communicate complex things with a very simple action. Characters are definitely important in our work, after all, they are the stars of the show!


Jelly: Which previous brands have you worked for?
EF: As Everyone's Favourite we've created work for MTV, Tastemade, Breast Cancer Awareness, Adult Swim, Coldabank, Drms app, Atlantic Records and lots of lyric videos.
NS: We've worked for MTV, CocaCola, Vodafone, Airbnb, Google, Primavera Sound, Cisco and Arris, to name a few.



Jelly: What is your favourite style of Animation?
EF: Anything silly, bizarre, weird-looking, high energy, or vaguely deranged! Basically work that has broken away from the mould of what people expect it to be or look like.
NS: We love 2d animation in every form, frame by frame, digital, motion graphics, characters, bring it on! Character animation particularly is really satisfying, with every new project we still feel those butterflies in our stomachs when a still drawing starts to move, it comes to life! It never gets dull.


Jelly: Which animators inspire you? / What inspires you?
EF: Animators that inspire us at the moment are Jose Fatkinson, Wong Ping, Grossbus Animation, Jellygummies, Parallel Teeth, and Matthew Eyre. Of course fashion is also a big inspiration for us. It's fascinating the way the fashion industry has been forced to merge with and embrace technology.
NS: Anything and everything! From the perspective of the world of Louis C.K to the strange set of chords of Connan Mockasin, from Messi's hat-trick last weekend to that funny graffiti around the corner - we transform and emulate all of that into our little animated world.


Everyone's Favourites: Tony and Garry (a.k.a Beach Dick) on Segways
Jelly: Any projects you're particularly proud of and why?

EF: Definitely our short film "Shower Scene". Even though it's just a loop of identical guys in the shower it really nails the mood/feel/brand we're trying to be. Also have to be proud of Beach Dick!

NS: Yes! The primavera sound job was a really good experience. It was a beautiful challenge and the kind of project that we like best. The ID we did for MTV will be always in our hearts - another great challenge to come up with the script from scratch and being able to tell an intense story in 13 seconds!