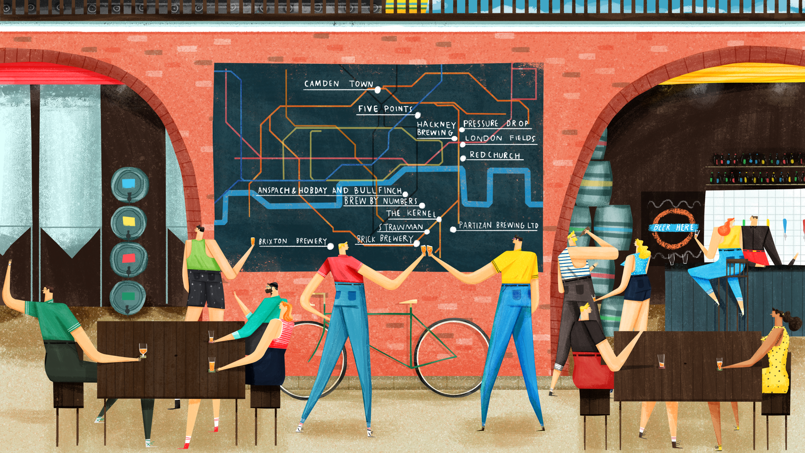 Both jelly's Hannah Warren and Joe Waldron (a jelly #Future) have been shortlisted for the internationally famed Prize for Illustration, and we couldn't be happier for them!
The Association of Illustrators (AOI) in collaboration with London Transport museum decided this year's theme would be London places and spaces, and Hannah and Joe had no difficulty finding inspiration.
Titled "St Saviours Dock - Boat Community", we asked Hannah to describe the inspiration behind her beautiful London scene, "I chose the boat community in St Saviours Dock. It's where I take my morning coffee walk and plan for the day's activities ahead. The moorings there are the oldest in London and sit by the entrance of the River Neckinger to the Thames, one of London's underground rivers. I think they have the best view in London!
For the fiction lovers - Bill Sykes from Charles Dickens "Oliver Twist" met his watery end in the silty sands of the dock (maybe you can see his hat?) Today - a lazy swan sits in that spot, waiting for the tide to come in, watching tourists and Tower Bridge do it's thing.
I love it here."
Using flowing lines, organic shapes, and complimentary colours to showcase St Saviours Dock we can see why it's one of Hannah's favourite places.
The Prize for Illustration 2015 continues Transport for London's legacy of design that dates back over 100 years. London Transport Museum's collection of graphic art is one of the most important in the world and includes over 5,000 posters and artworks by famous artists including Man Ray, Paul Nash and Edward McKnight Kauffer.
You can find Hannah and Joe's work in a exhibiton at the London Transport Museum from May until August 2015. The winners will be announced at a private award ceremony which is set to take place in early May 2015. We'll keep you posted!