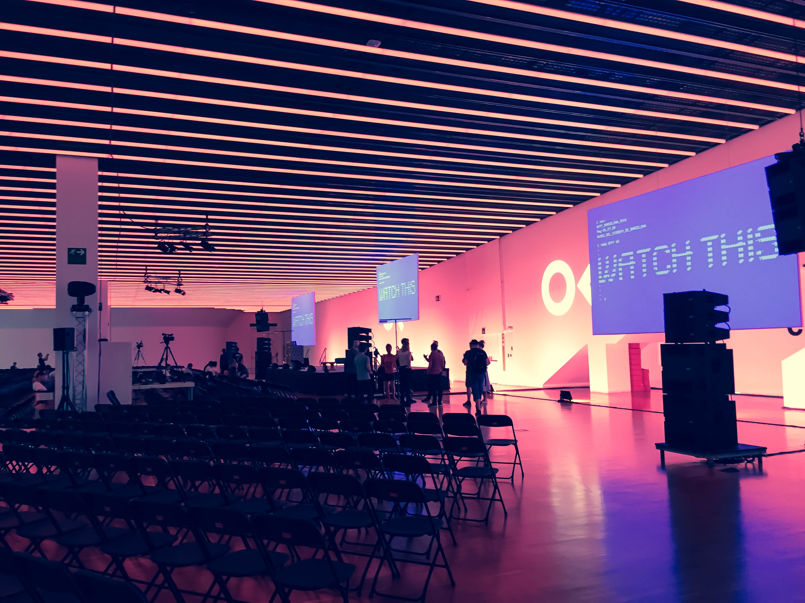 Jelly London's in-house designer & animator Rhys Clarke flew to sunny Barcelona to visit design and creative festival OFFF. Hosting a range of designers, motion designers, filmmakers, animators, illustrators, artists and entrepreneurs, OFFF Barcelona is one of the world's biggest creative festivals.
Rhys took some time to tell us about his OFFF 2016 highlights and the event's major trending topics:
"OFFF is a chance for professionals and creative talent from all over the world to meet, learn, and become inspired, and this year the line-up was as impressive as ever. Design heavyweights Paula Scher of Pentagram, Carl Sprague, Aardman Animation, and more took to the stage in front of 3000+ creative folk, each hungry to absorb every drop of creativity that came their way.
A few trending topics transcended across the speakers. VR was all the buzz, with the likes of UsTwo, Rama Allen of The Mill Lab, Digital Kitchen and Unit 9, all dipping their toes into the new and exciting technology.
Mr Bingo gave one of the more engaging and entertaining talks, touching on topics similar to that of Jonny Cupcakes. Both shared their experience of finding something they loved and turning it into something other people loved and wanted to be a part of. This seemed to be a similar take on the way creative people look at passion projects. The biggest trend of the event.
"You never know where your art will lead if you don't put it out there." – James White aka Signalnoise
Various companies discussed the multitude of benefits that passion and personal projects can lead to. Not only can they open up new opportunities, showing your colleagues or clients new things they didn't know you could do before, but a passion project could open up business avenues that would surprise you.
These projects can also help you learn as a studio or individual. If you make problems for yourself in personal projects, you can work out solutions and use what you have learnt in the projects that follow.
"If you think you can do better than what's already out there, it's worth having a go" – Mr Bingo
It would seem that the benefits of working on personal passion projects outweigh the disadvantages, and if you can make money doing it too, why wouldn't you?
If you're excited about your work, chances are, someone else will be too."