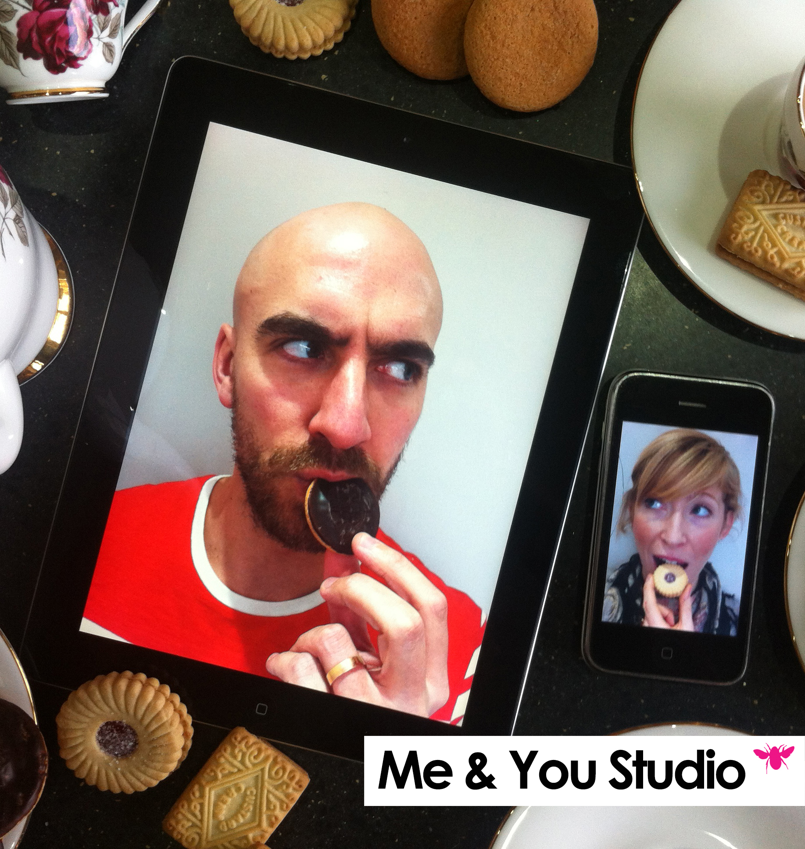 Jelly London are very excited to introduce you all to Me & You Studio, a husband and wife duo with a passion for all things design.
Who are you idols?
Emma: I'm inspired by too many people and studios to mention a few; and I don't always look to the motion/graphic design industry for my inspiration.
Ian: There's soooo much great work and inspiring folk out there these days. I don't really have a particular idol. One day i might be inspired by art, the next I'll get excited by a crane!
What's your favourite snack while working?
Emma: Peanut butter (& sometimes jam too) on toast.
Jelly London are very excited to introduce you all to Me & You Studio, a husband and wife duo with a passion for all things design.Ian: It's a tricky tricky question, but I think the jaffa cake rules for me, I buy them from Wilcos over the road.
What's your favourite music to work to?
Emma: What ever Ian is playing, he's the studio dj and is actually really good at finding new and interesting music. He found a rough demo of Adele online years before she was big!
Ian: I'm all over the place with music really. At the moment we love a bit of 'Breakbot', 'Bobby Womack', 'David "HoneyBoy" Edwards', 'Wallis Bird' but there's always, ALWAYS room for the Foos.
What's the highlight of your career so far?
Emma: Taking the plunge and setting up Me & You Studio.
Ian: Yikes! I don't know! Setting up the studio is a biggy, meeting and working with William Baker (Kylie's CD) was pretty cool, and of course signing with the super fab Jelly team.
What was the most stressful job and how did you resolve it?
Emma: Suck My Pop was definitely a challenge but one of my favourite jobs. We resolved the piece through seriously hard work, no sleep, a midnight sushi delivery and wine.
Ian: We've had some super fast turn arounds in the past and some diva like clients but I guess we always work our nuts off to make sure that everyone is happy and that we deliver a great piece of work. For us great communication from start to finish is key.
What's the best technical discovery for you?
Emma: Discovering I could actually learn and use 3D software was a big technical feat for me. I love C4D it's amazing, my favorite software for sure!
Ian: My top 3 tech discovers are:
3 - Apple Z. It's AMAZING, I regularly try and use it in real life too!
2 - My iphone, it contains my life, please don't nick it.
1 - The kettle, this studio would crumble if we didn't have a kettle for a good brew!
Who's your dream client?
Emma: A client that pushes and gets the best out of me, in the most painless way.
Ian: I'm with Em, it's always great working with clients who know how to pull the right strings and can communicate with the upmost clarity.
Describe your work in 3 words
Emma: Colourful, bold, evolving
Ian: erm… super great!
What's your favourite decade and why?
Emma: The 80's for the A-team and MC hammer pants but this decade for being more confident and happy in work and life. A bit cheesy but true.
Ian: I'm a big fan of the whole late 80s mad-chester scene. I just missed getting truly involved by a nats whicker. Would have love to have stepped into the Hacienda in it's hey day.
3 strange facts about you both?
Emma: I am related to Norman Wisdom and I broke my arm doing a cartwheel
Ian: I shave my head with a lady razor! You get such a smooth result!! My toes are almost as long as my fingers! I'm a one pot wonder king. If you come round for tea it'll be done in one pot!