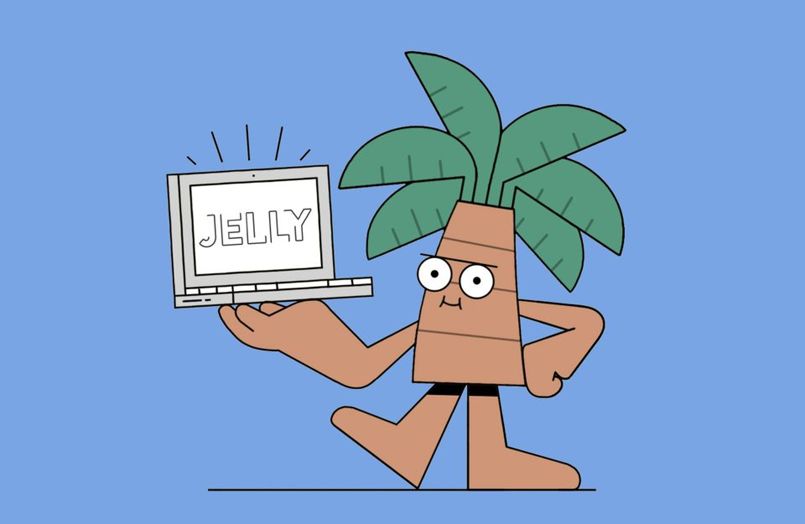 Dan Woodger grew up watching The Simpsons and day dreaming about making a living from doing what he loves – drawing. Fast forward and his client list now proves that's possible, with the likes of Google, Pepsi, The New York Times, The Washington Post and Netflix having all worked with Dan.

We're mega excited to now be working alongside Dan and we thought it would only be right to pick his brains to find out just what exactly goes on in his oh-so-creative head.
Q. Tell us a bit about yourself, and how you became an illustrator.
Hello! Thanks for chatting with me. I'm an illustrator and animator living in Kingston Upon-Thames in London. I grew up in a little army town in Hampshire called Bordon. Like most illustrators I spent my childhood drawing all day, every day. However, when I was about fifteen / sixteen years old I presumed it would be too difficult to use my drawing ability for any kind employment or monetary gain. So instead I decided to pursue a more hands-on practical career. For some reason I decided golf was my life's calling!? Yeah. Not sure how that happened really but whilst studying for my A levels I also worked part-time as a pro shop assistant, training and practising to become a golf teacher.
I figured once I'd finished with college I'd start working full time at the golf club and take my PGA training course to become a teaching pro. Turns out, I'm not that good a golf! So at the last minute I decided to do a u-turn and continue with further education by signing up for an art foundation course. Best decision of my life. I then went on to the University of Brighton to study illustration before setting out on my journey as a freelancer!

Q. How would you describe your style?
I create laid back, colourful, character lead illustrations staring a cast of wide-eyed weirdos and anthropomorphic misfits. I like to think my style fits somewhere in the gap between traditional pen and ink character design and modern vector digital illustration.

Q. Whats been your favourite project so far, and why?

Oof, it's hard to pick just one! I have three that particularly stand out for me.
First is the BT Artbox project I worked on back in 2012. It was one of my first big projects when I was starting out and it was a baptism of fire for learning how to deal with tight deadlines. Long story short, I had six days to completely decorate a full sized plaster cast of a London phone box. Somehow, without a plan, and working totally free handed I managed to pull it off and create something I'm still really happy with to this day.
Second has to be the LINE emoji project I worked on about three years ago. That one was the a epitome of a tight deadline! The project was to design one thousand emojis in just ten weeks. I was creating one hundred emoji designs a week! The project was a big success and lead onto many other exciting opportunities, but boy was it a huge ask! I was working seventeen hours a day seven days a week in order to meet that ten week deadline.


Third is the tray mat I worked on last summer for McDonald's Japan. That project was so much fun to work on. The agency gave me tonnes of creative freedom and I was so pleased with the outcome that I decided to fly to Tokyo to see the tray mats out in the wild for myself!


Q. Do you work with music on? What's the very last track you just played… be honest.
Haha yes I do, it's usually something pretty embarrassing but you caught me on a good day! I spend all day long alternating between music and podcasts. Last track I listened to was 'Your Hand Holding Mine' by Yellow Days, last podcast I listened to was called 'Last Podcast on the Left' - A true crime podcast my friend got me into recently. It's pretty gnarly stuff though so I need to break up the episodes with something a little more uplifting.
Q. How have you honed your talent?
Hard work. Pure and simple. I think I certainly have some talent, but talent only gets you so far on it's own. What I know I am damn good at, is putting in the hours. I think that that dedication has enabled me to turn a hobby I enjoy into a job I love.

Q. What's your creative process when it comes to illustrating?
Sorry, going to get tech-y for a sec...
For single character illustrations, I start by sketching out the initial idea twice. First really loosely, I'll scan that loose sketch into Photoshop, clean it up a little, drop the opacity to about twenty percent, then print it. I'll then sketch over the top of that print-out to try to solidify the composition. Scan it in again, drop the opacity to twenty percent again and then trace my sketch with the pen tool in Photoshop. Once I have the line work complete I'll just fill with colour using the paint bucket tool - kind of like paint by numbers!

When working on a crowd scene I approach it a little differently, First I'll sketch out a rough composition, but then instead of sketching all the characters in situ, I sketch them out individually on a separate sheet of paper. I then scan both the loose composition and the individual characters into Photoshop. Then one by one, I cut and paste each individual character into position in the composition in layers, so basically its kind of like piecing a puzzle together, I'll keep moving the characters around until I'm happy with the composition.
Q. What tools are you using at the moment?
I'm fairly lo-fi when it comes to equipment. I sketch my ideas and compositions out on plain A3 printer paper with a standard HB pencil. Scan those sketches into Photoshop. Then use a little Waccom Intuos tablet to work the illustrations up into colour.
Q. Where or who do you find inspiration from?
I think the sensibilities and tone of my work come from all the cartoons I used to watch growing up. The Simpsons, Teenage Mutant Ninja Turtles, Hey Arnold, Rugrats, Real Monsters, Doug etc. These were the shows that inspired me to draw. Nowadays I find inspiration from all kinds of places. Right now I'm obsessed with American packaging and advertising from the mid to late seventies and have fallen down many-a internet hole, scouring sites dedicated to old cereal packaging and bubble gum wrappers.


Q. What are your favourite things to draw and why?
I really like drawing apples. I have no idea why really, but I've made it a tradition to draw an apple as my first social post of each new year. It's a nice way to see how my style has developed and changed over time.
I also really enjoy drawing vehicles. Thinking about it, that's probably because it's a bit of a break from drawing characters. I love playing with the perspective and proportions. Although, there's not a chance they'd be road-legal or functional if they were designed like how I draw them in real life.


Q. You're on a deserted island – what 3 things can you not live without?
1 - Season one to ten of the Simpsons, the most influential show of my life. I could watch these episodes over and over again until the day I die.
2 - I would say my bike, but this island sounds kinda desolate and rocky... am I taking this island metaphor too seriously? My bike, I love my bike. I ride it to and from the studio everyday and out on long rides at the weekend and in the summer evenings.
3 - Spotify... or some -way of streaming / listening to music or podcasts. I have my headphones in all day long I even go to bed listening to something or other.
Q. Have you got any exciting projects coming up?
I have a few really exciting things coming up. Annoyingly I can't talk about them right now (sorry... I'm being that guy), but keep your eyes peeled for a couple of big animation projects coming out in the next couple of months!

Check out more of Dan's work here.