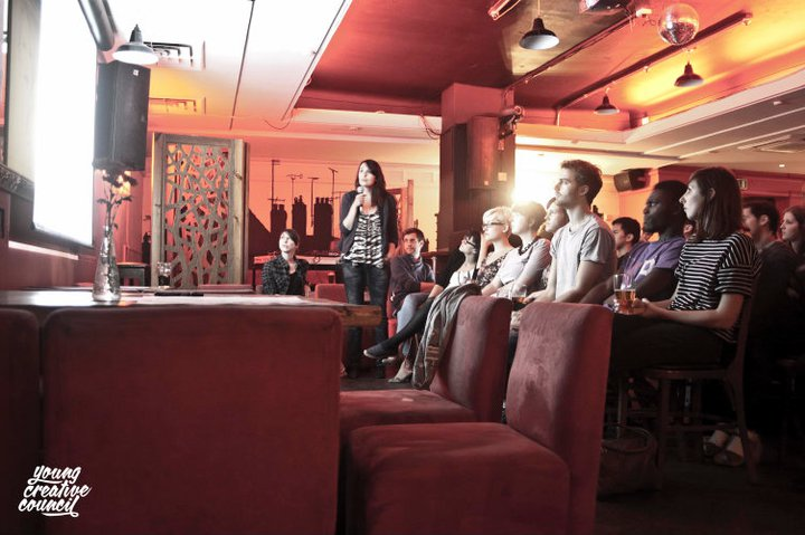 On the 11th August, Jelly and The Young Creative Council teamed up for a second event, "How to brief in a creative". This particular event was directed to educate young creatives on the briefing process, in particular, how it should be done.
Firstly, a huge well done and thank you goes to everyone who took part and attended. We hope you enjoyed the experience and you felt it benefited you as much as it could. A huge thank you for the efforts of The Young Creative Council and The Phoenix on Cavendish Square, as well as artists, Mark Otten and Jo Ley who joined us on the day.
The night started off with a presentation by Jelly's Charlie Sells and Hülya Corty, introducing Jelly; who we are and what we do. This provided the foundation to talk about briefs, what we receive from clients and how they benefit ourselves and the creatives who brief us.
We pinpointed out key elements of a motion brief:-
• Script
• Storyboard
• Mood Board/References
• Voice over/Music
• Artistic intent; an in-depth explanation of the idea in words.
• Usage
After comparing case studies of Max Factor and Audi we split the creatives into small teams of 6 or 7 to work on a script we had provided. Their task was to create a TV spot for Twinings Tea. Using the script, they had to conceptualize a TV spot, create a scamp storyboard, then using illustration and animation references, they had to pick the right style. Whilst the creative teams were sat discussing routes and ideas, Jelly walked around contributing advice and experience. We were also joined by two Three Blind Mice visualising artists, Mark Otten and Jo Ley, who drew key frames from the teams' scamp storyboards.
After the event, we asked for the teams to submit their concepts. Here are a selection of the entries, focusing on sections that are perfect - and bits that weren't so perfect! Here's the result...
The Challenge: Create a 30" TVC storyboard for Twinings English Breakfast Tea. Using the script provided, find an illustrative style that captures the brand, product in a relevant and engaging way.
Background: Described as, "Bright, full-bodied and full of flavour, English Breakfast is perfect for clearing away your cobwebs at any time of day". It is the quintessential English tea from a quintessentially English brand.
Script:
Client: Twinings Tea
Medium: TV
Title: Blended to make every day, a little better.
Length: 30" There's many a way a gentleman or gentle lady can invigorate him or herself. The Chinese, I'm told, start the day with a warm bowl of Conjee - a watery rice gruel. Mmmmm tempting. In Russia many of our feistier comrades wake up and visit the Banya where they are steamed and beaten with brooms of fresh oak leaves. Personally, however, I prefer to ready myself to the challenges of the day ahead with something a little more English. A smidgen more pleasurable. Twinings English Breakfast Tea. A refreshing blend for a brighter morning.
Super: Twinings. Blended to make every day, a little better.
KFV to scamp: "Personally, however, I prefer to ready myself to the challenges of the day ahead with something a little more English."
Concept 1: By Isaac Sodipo, Steve Mattocks and Yukino Kohmoto.
The idea: Young male wakes to find himself in a different place (China and Russia) to awake from a dream to his kitchen table.
Our Feedback: They submitted a PDF with a storyboard, artistic reference and key frame. The pro's to their submission was the amount of samples and motion references they gave and the written detail in their storyboard. They encapsulated a good character with enough detail to what visuals are in their idea.
They had a few Cons' also... what we would have liked is a clearer understanding of the transitions between frames and how they would like the movement (background visuals and character) in the frames to happen. They didn't mention their choice for a voice-over or any music.
Concept 2: By Bobbie Wood and Emma Davey
The Idea: Two characters sit among a chaotic family morning knowing assuring a cup of tea will prepare them for the challenges ahead.
Our Feedback: Along with a verbal storyboard they had a great break down of characters, outlining each one perfectly – good casting. They had thought of audio (although quite vague, could have been more explanatory than 'background noise') yet left the idea of voice over blank and simply mentioning it to offer narrative. This is something we would have preferred to be thought of beforehand.
A strong factor to their brief was they broke down the supplied script and included a written outline for each frame, supplying a visual storyboard along the written outline would have made a better brief. A main point we picked up on was the term 'bleeding' we understand the terminology but different people have different ideas of that term. It's far too vague; it cheats on the idea of providing transitions and is a little lazy as an explanation of movement. A strong point is there conveyance of their idea. They picked the correct key frame and it shows perfectly the resemblance of the character.
Concept 3: By Steph, Lucy, Scott and Pete
The Idea: Victorian style drawings are animated within a pop-up book.
Our Feedback: In our opinion, this was the best brief received; a journey through a pop-up book proved most creative and was briefed to us brilliantly. With a precise paragraph outlining the concept and visual ideas, this brief looked to have nearly everything we asked for; strong transitions between frames, a solid visual style, able to convey idea to the storyboard artists and they had exact ideas for camera angles, colours and characters.
What was nice to receive were there transitions, between each key frame the book would spin anticlockwise and at a rate where it would turn into a blurred circle. This eventually became the world. Stopping at the locations of China, Russia and England, it would spin on to offer the end shot forming a globe (representing the tea drinking world) with the location of the super above it. It was nice to have a creative without a pack shot at the end, we felt the style idea suited the brand and they delivered the brief really well. Yet there were things they needed to include; voice over and music seemed like a general element groups forgot to include, this group isn't an exception. They didn't provided a mood board of animation/illustration styles (yet Charlie remembers talking to this group about style, particularly as they mentioned the title sequence to "Lemony Snicket's A Series of Misfortunate Events" which is the perfect style reference – shame it wasn't included in the brief)
Many thanks to the The Young Creative Council for supplying images. You can see more shots from the event over on their Facebook page.