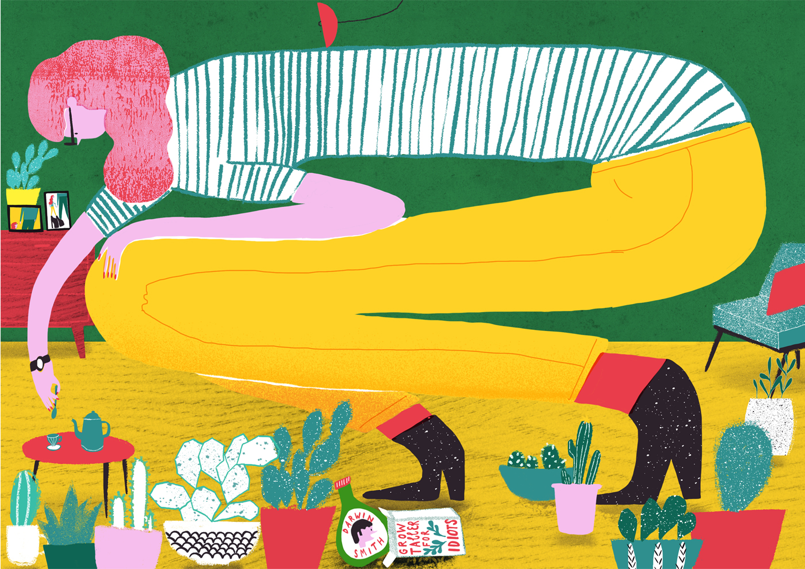 We can all relate to Hannah Warren's latest personal project "Spam Portraits." The ongoing, illustrative experiment aims to put the fun back into our annoying junk mail boxes, and bring to life those dodgy, fictitious characters behind each unwanted, spammy email.
Hannah tells us, "Like many people, I receive a ton of spam emails every day. Mostly generic ones, like online casinos or designer bag sales, but more recently the spammers have been finding new and creative ways to get through the email junk box. Lately I've received helpful advice from my spammers, with titles like "grow taller", "the truth about eyeglasses" and "1000 wood cutting patterns" to name but a few. Although annoying, I find these in some ways kind of charming and funny."


"I started to imagine who these characters could be with their fictitious names like "Wendy Sailer" and "Travis Phelps". What would they look like outside of the computer screen?"
The results so far are pretty magical...

Wendy Sailer - Grow Taller for Idiots

Travis Phelps - Millionaire

Linda Grover - 16,000 Wood Cutting Patterns

Sandra Swisher - Peddler of Waterproof Matches



Dr. Gilbert Blair, Director Union Bank UK Plc

Ginger Rose - Developer of the unbelievable Manifestation Formula
For Hannah, this is just the beginning of her exploration through responsive content. She is keen to draw at live events, react to ideas via social media, and create drawings based on real time events.
Whilst continuing to work on Spam Portraits, Hannah would love to collaborate with more podcast and radio shows. She has recently been busy drawing an illustration for In The Dark radio's next event in London, which could involve live drawing.
Hannah also hopes to partner with a brand "that needs a story to be told." Luckily, we may just have something up our sleeves! Watch this space.
Go behind the scenes with Hannah Warren here.
Stay up to date with all things jelly: Facebook, Instagram, Twitter and Pinterest.