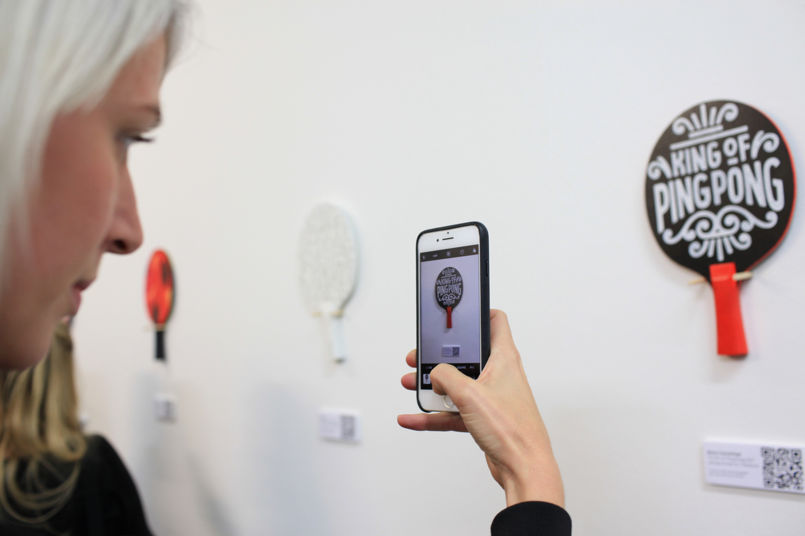 Jelly London are proud to have helped The Art of Ping Pong in submitting another brilliant collection of artworks for auction, and a great new charity to support. So far their auctions have raised more than £15.5k for charity!

Stina Persson and Alison Carmichael were among the twenty-seven artists this year that submitted their weird, wonderful and whacky painted bats! From established greats like George Hardie, who created the artwork for Pink Floyd's The Dark Side of the Moon, to the new kids on the block like Mr Doodle, the crazy new doodler!

Our very own Illustrator Alex Tait, created a brilliant window vinyl for the exhibition space.
The event, produced and curated by Algy Batten, is now in its fifth year. To keep 2017 fresh they have added two of their own mini ping pong tables to the online charity auction. These are painted by Charlie Oscar Patterson and the crazy doodler Mr Doodle – who drew on his table live at the launch event!
This year the chosen cause is Trekstock.

Full list of contributors include the following stellar line-up: Yoni Alter • Mr Bingo • John Booth • Emma Brewin • Fred Butler • Alison Carmichael • Sebastian Cox • Mr Doodle • Marina Esmeraldo • Emily Forgot • George Hardie • Nigel Howlett • Kev Munday • Neasden Control Centre • Nous Vous • Zuza Mengham • Hattie Newman • Charlie Oscar Patterson • Stina Persson • Saskia Pomeroy • Pref • Benedict Radcliffe • Gemma Shiel • Adam Simpson • Sam Taylor • Louis Trew • Celia Washington.
The online auction is hosted at www.theartofpingpong.co.uk and runs until midnight on 30th November.
The official launch party for the collection was a packed out event held at Shoreditch's Protein Studios on 26th October, where 100 limited copies of the exhibition book were given away.
There will be a closing party in partnership with Creative Debuts on the 29th November, at Below One Fifteen, 115 Curtain Road, Shoreditch. Your last chance to see all the bats together.
Trekstock

Every day in the UK, 34 young adults in their 20s and 30s are told they have cancer. Trekstock supports them as they live through and beyond a journey that doesn't stop when treatment ends. By providing social and practical support right across the UK, we aim to tackle social isolation, improve quality of life and provide young adults with the tools they need to get moving again after cancer.