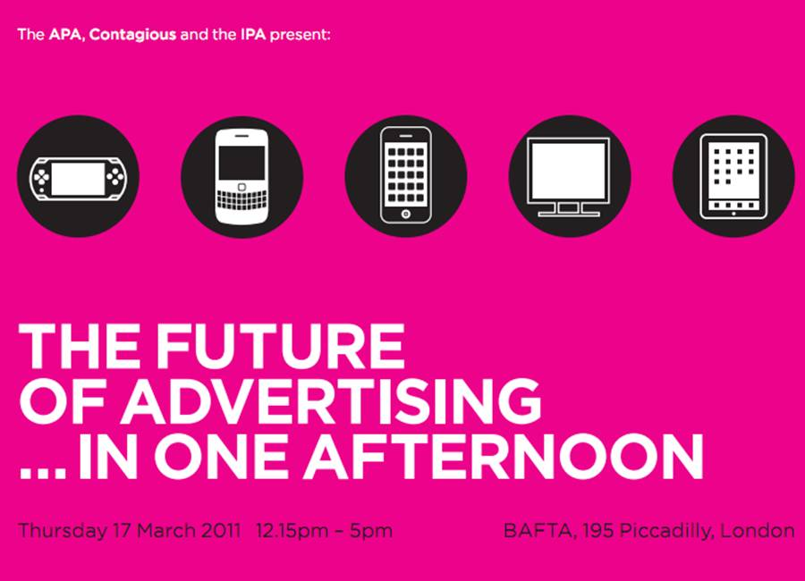 Earlier this week, Jelly owner, Chris Page, with over 20 years' experience in the business, joined other Advertisers Producers Association (APA) members in the Future of Advertising debate, which was hosted at BAFTA. This event related to the collaborative 'creative industry' learning and sharing delegation trip to Silicon Valley back in March.
It was an incredibly eye opening afternoon. As key speakers from diverse and niche areas within the creative sectors spoke, it became clearer that there is no one simple answer to the future of advertising, rather there are many evolving advances in technology which are directly affecting consumer habits and whether we like it or not, mobile optimisation (all content needs to be suitable for mobile interaction), tracking data (data is fundamental to measuring campaign success rates and many agencies and brands live by their analytics stats) and finally, dual screen engagement (one TV screen is no longer enough, consumers want to research, share and interact on their second tablet or mobile screen nowadays) cannot, and must not, be ignored.
The fact that every medium and channel is constantly evolving is kind of re-assuring in some ways, as there was a common attitude amongst all the niche creative agencies not to fear change, but to revel in the exploration phase of the unknown and to keep learning, adapting to and adopting change. Larger content channels like Twitter and ITV emphasised the message that the content creators need not worry too much about the evolving formats of delivery, but maintain focus on the story telling and the craft, these are the most important feats to any idea, as, ultimately what matters is that consumers are consuming content - not which screen, resolution or website they obtained the content from or through - for that matter. After all, it's not very often that you hear a conversation that's starts with, "Did you see that awesome ad?…" and ends with, "Oh! [Insert awkward and pitiful silent pause] You should have watched it on an i-pad."
In terms of how brands should be using social media to communicate, Bruce Daisley, Twitter's UK Director discussed how brands can and should be targeting their key demographic in a more native way. He used Vogue magazine as an example of how ads within the right environment can even complement the composition of content in any form.
As an animation company ourselves, we were fascinated with the creative and awe-inspiring technology we heard from Nexus and Passion about real-time animation, which is both astounding and disconcerting! They are more recently working on rendering people, that's right, real renders! What they have achieved with animated characters in real time is already ground breaking but, they are still evolving the life like-ness of the digital human, this technology will be particularly applicable to the gaming industry, but it was suggested at some points in the day, that in the not too distant future, perfect hyper real people will exist as the faces of brands. Two words. Mind boggling.
Neil Riley nearly jumped for joy when he could officially claim that Passion have perfected CGI fur. It made us feel all fuzzy inside to know that the long and quite possibly arduous journey they embarked on, was all worthwhile in the end. A fur ball illuminated his presentation by elegantly bouncing around the projector behind him as he pronounced its complex textures and tones. No word of a lie, a hairspray advert could not have done it better.
So with dual screening, real time animation, intelligent brand communication through social media and fur balls aside, is there a future to this industry previously known as advertising? Yes there is, because brands will always need to communicate and to share a message through engaging and often interactive content.
But is there one correct way to do it though? Clearly not, but it would be boring if for example, everyone wore neon pink, or if everyone had the same accent. No-one ever achieved anything truly creative and innovative without a challenge and no one working in the creative industry should be doing so, unless they are seeking one either.