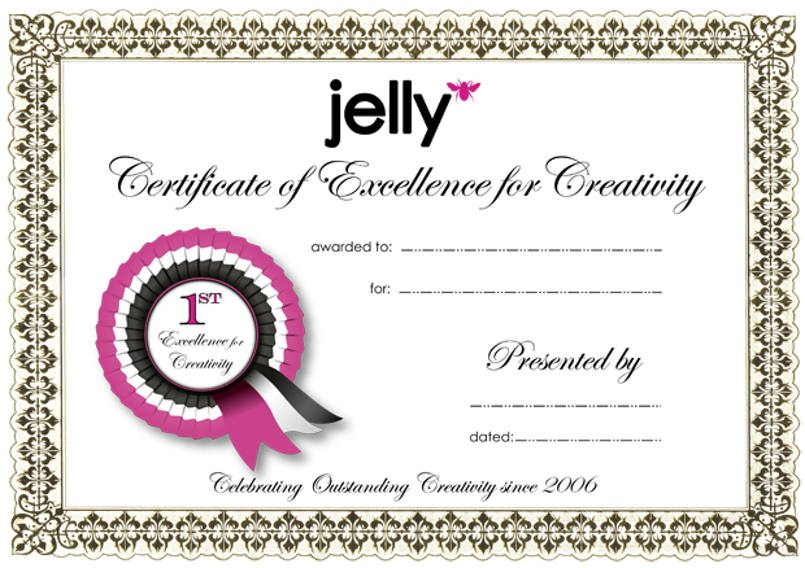 Jelly has developed an awards scheme for formidable creative contributions to the industry: The jelly Certificate of Creative Excellence. It is fast becoming the greatest trophy for leading industry talent; forget your pencils, your lions and your creative circle, this is where it's at: this is the BIG one!
For the four-sea-able future will be showcasing all the clever people in advertising who have been creative enough to pick up our certificate - and rather lovely rosette – on our blog so you can: a) Admire them. b) Aspire to them. c) Be inspired by them. d) So they can show off. e) So they can make their mums proud. f) Cows.
The first winners of the The jelly Certificate of Creative Excellence are as follows: Juan Cabral (Fallon) – TV spot Eurostar
Jim Hilson & Toby Allen (BBH) – Audi TV Spot Rob Fletcher (Isobel) – Bordeaux Wine Council Print
Dan Cole & Andy Garnett (Grey London) – Online Honda spot
Colin Jones (AMV) – Gatorade TV spot
Ben Priest & Sidney Rogers (Adam & Eve) – Fosters TV spot
Rob Welch & Naz Nazli (JWT) - KitKat print campaign
David Soussan & Christophe Vino (Euro RSCG) – Peugeot TV spot
Harry Budgen (Adam & Eve) – Fosters TV spot
Adam Kin & Lewis Raven (Glue Isobar) – Visit Sweden online spot
Keep checking in for more winners, you may well be next!