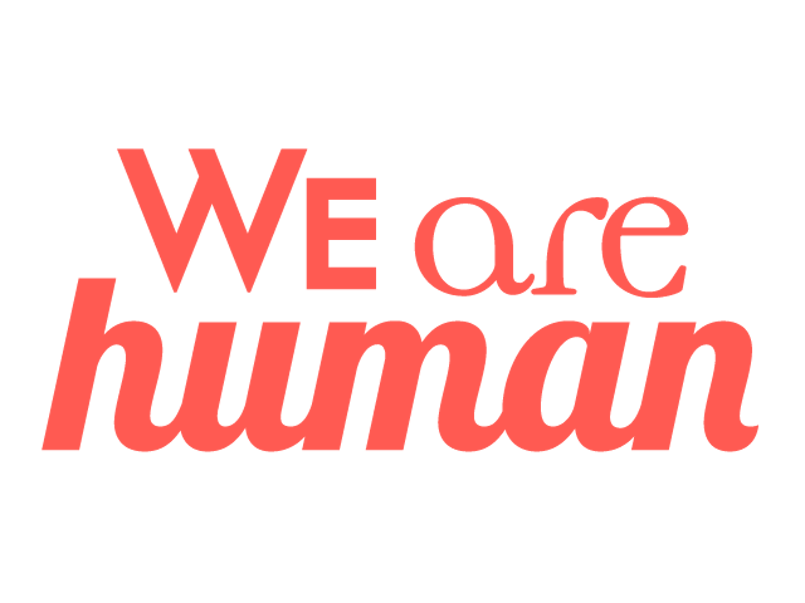 We wanted to know more about what makes forward-thinking agency, We Are Human, more human in the age digital design… So we asked Jamie Brooker, the Co-Founder and Creative Director more about his vision…
We understand that We Are Human was created a reaction to the traditional advertising structure. Can you tell us a bit more about it? It was more personal than that. It was more a collective reaction by both myself and Johan to the type of work we've done in the past - which was often traditional communications or marketing for large brands - as we felt we could use our knowledge and creativity to have more impact on people's lives, through design thinking. Either by designing products or businesses that instigate amazing or valuable experiences, sharing our philosophy and processes through teaching and speaking, or investing in ideas we truly believe in by helping make them happen. You could say We Are Human is platform which enables us to do what we want to do, constantly improve ourselves by trying new things and surrounding ourselves with talented individuals with complimentary skills, and in sectors we want to impact; primarily education and health.
How do you feel that you can improve people's lives through design? I think having a design philosophy is what sets great products apart. By truly understanding people, their culture, their context and of course how technology impacts that, we can apply design thinking to real-world scenarios, and try to instigate change for the better. Understanding individual behaviour and applying design to them can create positive habits which enrich people's lives. This understanding is fundamental to designing "disruptive" products, but also a design philosophy and culture is about having the correct methodologies and processes in place to make it happen. Having great ideas is often the easy part!
Inclusive Design is a philosophy we try to integrate in to all of our work. It's the process of designing products for the most extreme type of user ("lead user"), thus improving the experience for all other users, and making great business sense. Lead user's aren't necessarily elderly, or those with a disability, but they could be a male if the product is traditionally more female focused (for example). My favourite example though is when Panasonic in Japan designed a washing machine with a simple twist; a drum that is tilted diagonally upwards rather than horizontal. They recognised the ageing population out there, and the titled drum meant people didn't need to bend down when putting clothes in. They had record sales, because it improved the experience for everyone both now, and in the future.
Behaviour design allows you to design digital products which often only impact people's lives in a very small way at the beginning, because they have no reason to invest their time in it. But over time, through designing new interactions which require more investment but return much bigger rewards, we can create products that produce very positive habits. Facebook's perhaps not the best example in terms of positive habits(!), but it's the easiest product to illustrate changes in habits: starting out as a way of browsing pictures and 'poking', it's now the first thing people check when they wake up in the morning.
How do you translate a business model into a creative project? Within service design or user experience design, understanding business models is integral to the creative process. Business models are often unexpected, and can evolve once you realise how people are actually using your products, and monetisation can come in any number of untraditional ways. It's an iterative process, constantly tweaking until you find the right model. AirBnB's a great example - they bypass the hotel industry by allowing you to stay in other people's houses. But, they then created a place to go and actually explore where you want to go on holiday, not just where you want to stay when you get there. They achieved this through design; by creating desirability through high quality imagery, wish lists and bespoke guides, they found that people were exploring different locations before finding places to stay within them. That's a disruptive business model, providing a much more personalised experience between the homeowner and holiday maker, rather than the traditional large organisation and small consumer approach.
Who would be your dream collaboration? Probably a top university with a great research department and technology transfer office. I'd like to work in the health sector, and apply design thinking with their research to create products that could even save someone's life.
What is your main focus as a company at the moment? Education! Our game-based social learning platform, Kahoot!, has recently been released for anyone to get instant free access, after a private beta period. The initial signs are positive, we've had some amazing feedback and quite humbling stories from teachers and students, as well as a real global user base - North, Central and South America, all over Europe, Africa, Asia and a lot in Australia. It's fun to see it growing, but there's a lot of hard work ahead to get to where we want - we've started with the small, simpler interactions, but have much larger plans for the future… And, we're setting up an educational programme for high growth companies to learn and understand our processes and methodologies.
Which frameworks and philosophies do you live by? This is Service Design Thinking, Lean Startup, Lean UX, Gamestorming, Inclusive Design, The Hook, Fogg's Behaviour Model, amongst many others.
Where do you see yourself in two years' time? Instigating positive change in education. I believe Kahoot! can become a facilitator for social experiences and exchanges in the classroom and beyond, globally. It will be a journey to get there, but as I said we have a bold vision… but to get there we need to go one step at a time.