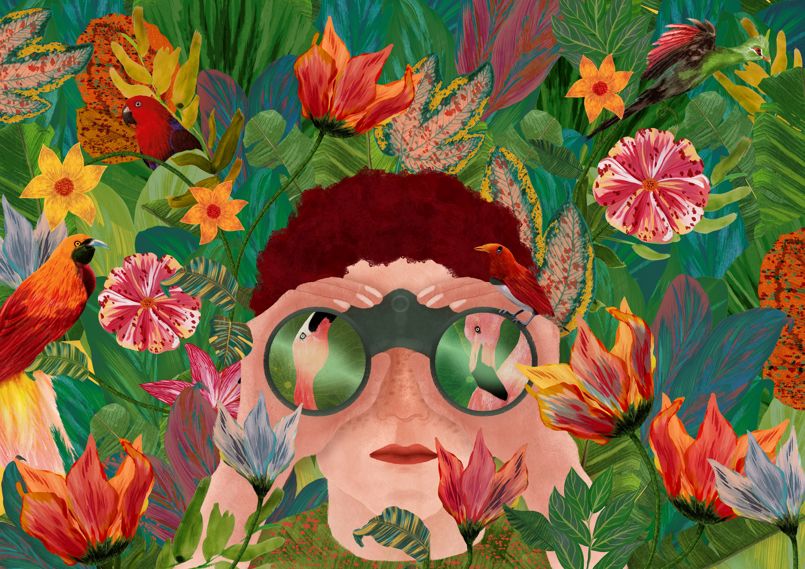 With an Instagram page to die for, it's no wonder Mother London recently asked Mariana Rodrigues to take over their Instagram account for a week. Sharing recent and best loved illustration work to their 30k followers, Mariana turned @motherlondon into a vibrant paradise of intricate patterns and diverse cultural references.
What is really interesting about Mariana's work is not only her strong sense of identity as an illustrator, but her ability to mix illustration with her love of photography. Her style is based on deconstructing things - often nature - and reassembling them into a new, imaginary world. She creates her illustrations by using a combination of techniques: pencil, ink, watercolour, digital manipulation, digital colouring, and now photography.
We decided to catch up with Mariana to hear more about the way she works, what she's been working on recently, and to discover the people that are inspiring her on social media...
Tell us a little more about your process when combining illustration with photography.
MR> Illustration is my first passion and photography my second, so it's natural for me to sometimes mix both to express what I want. The most natural way for me to do this is by mixing the illustrated parts with photography in Photoshop, although sometimes I also like to print and cut the illustrations and photographs to combine all the elements at once.
What do you enjoy most about mixing the two medium?
MR> Sometimes when I take a picture, I look at it and feel the need to add something. The message isn't complete. So adding illustration is my way to create another dimension. I also enjoy creating a more magical world and I think that's what other people like most about it. It's kind of enchanting and dreamy, like a wonderland.
Where would you love to see your illustrations appear in the world?
MR> That is a good question and quite hard to answer. When I decided to dedicate myself 100% to illustration I remember seeing a video of Koralie and Supakitch painting a wall at the Världskulturmuseet (Museum of World Culture) in Gothenburg, Sweden, and I was fascinated by it… I still am after all these years! So that is something that I aim to do one day. Anyone with a blank wall out there?
You have quite the following on Instagram. Tell us a little more about that.
MR> Two years ago Instagram featured my account on their suggested users list and that brought me visibility and lots of new followers from all over the world. I also appeared in a couple of publications and blogs because of my IG account. I think it is a really interesting and engaging community, and because of it I've met some really talented people. It's important to engage and respond to your followers and keep true to yourself and your work.
Is there anyone in particular that inspires you on Instagram?
MR> There are many people/accounts who inspire me for many different reasons, but here are a few:
Azuma Makoto (@azumamakoto), a magnificent flower artist, a big inspiration.
Nathalie Lété (@nathalie_lete), with her dreamy and colourful world.
Brooke DiDonato (@brookedidonato), her emotional and perceptive photography speaks close to my heart.
Maria-Ines Gul (@mariainesgul), what's not to love about her work?
What have you been working on recently?
MR> I've been developing an interest in textile design so I've been trying out some illustrated patterns and learning how to make them. It has been a really interesting process and I always have a blast doing it.
I've also created some wall murals recently for a new company and I can't wait to share them with you. This was a really great opportunity for me as creating and working on wallpapers and wall murals is something that has been on my wish list for a long time.
What's next for you?
MR> Because of my recent interest in textile design I've been working on a secret project. It's a personal project related with fashion and maybe later with home decor. It's all really new for me but as an illustrator I think it's important to keep challenging myself and keep learning new things and techniques.
Fancy working with Mariana? Get in touch!
Stay up to date with all things Jelly by following us on Instagram, Facebook & Twitter.