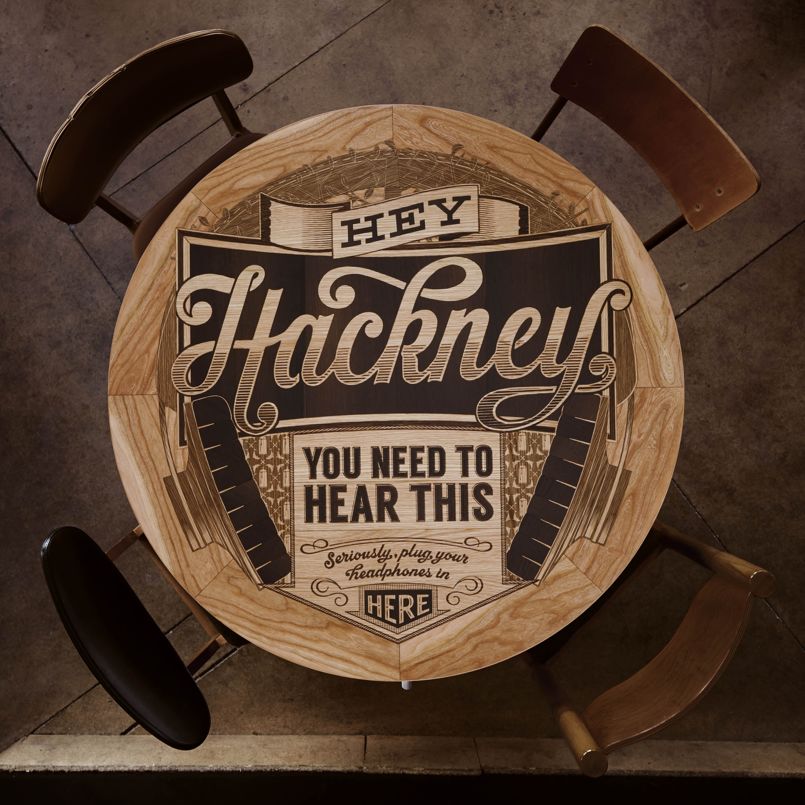 Alison Carmichael and Steven Bonner were commissioned by Ogilvy & Mather London to bring one of their limited edition series of innovative musical tables to life, with hand-drawn typography and illustration, as part of the Philips "You Need To Hear This" campaign.
The collaboration between Philips Headphones and Noisey, (Vice Magazine's music channel) was about giving people amazing music in remarkable ways, whilst sipping a cheeky pint as the tables appeared in the Pubs of some of London's Hippest areas.
The bespoke crafted table surfaces were entirely made using three types of wood: American oak, fumed oak and maple and each used a range of techniques including marquetry, laser etching, wood burning and hand distressing. Alison said, "as a lettering artist, it was very rewarding to see my artwork re-produced using marquetry, burning and laser etching, a unique and original idea using some really beautiful traditional craft techniques." Steven noted "it's rare that you get to see your work used in such a painstakingly beautiful way, and the love of craft really shines through in this project. It was a pleasure working with Alison and Ogilvy on it."